Angelique Williams, 20, today pleaded guilty to the fatal stabbing of her pregnant best friend, Lloyda Renita Thomas, in 2015.
Her sentencing has, however, been deferred to April 25, pending the presentation of a probation report, which was requested by her attorney, Mark Waldron.
Williams, who appeared before Justice Navindra Singh at the High Court in Georgetown, pleaded not guilty to murdering the young mother of one, but admitted guilt on the lesser count of manslaughter.
When the December 23, 2015 indictment was read to her, Williams, in a soft tone, said that she was guilty of unlawfully killing Thomas at Versailles, West Bank Demerara.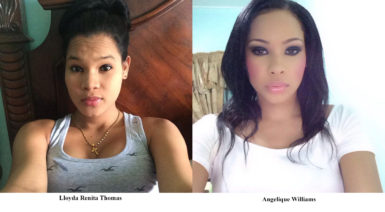 Before accepting her plea, Justice Singh enquired from the young woman whether she had taken any medication or drugs in the 24 hours prior to making her plea, to which she answered in the negative.
Asked if she had discussed her plea with her attorney, Williams said yes.
She also answered likewise, when asked by the judge if she understood fully that by pleading guilty to manslaughter she would have waived her constitutional right to a trial and would be sentenced to a term of imprisonment.
Asked finally whether she was being forced by anyone to plead guilty, the young convict said no.
The state is being represented by Prosecutor Tuanna Hardy, in association with Siand Dhurjon.
Thomas, a 20-year-old mother of one and who was also pregnant at the time of her demise, was stabbed multiple times about her body during an altercation with Williams, which ensued during the course of an outing at the Aracari Resort.
The injured woman sustained 22 stab wounds, and was pronounced dead by the time she was rushed to the West Demerara Regional Hospital. She died from haemorrhage and shock due to stab wounds to her abdomen.
After the incident, a close friend of Thomas, Tiffany (only name given) had told Stabroek News that she learnt from other friends that the altercation took place after the women had left the Aracari Resort, where they had gone with about 10 other friends for a "hang."
Tiffany had said that an argument broke out when Thomas, Williams and another friend were heading home.
At the time, they had been seated in the back seat of a vehicle driven by a male friend and they started to argue over the seating arrangements. It was then Williams reportedly stabbed Thomas continuously about her body.
Tiffany had related that prior to the stabbing, the two friends shared a close relationship for five years and they lived like sisters. She also noted that not long before the killing, Williams had threatened to kill Thomas whenever she got the chance but the threat was taken as a joke.
Tiffany had also noted that the two had been having almost daily arguments about bills. These arguments, she had said, started after Thomas invited another friend to live with them.
Thomas' mother, Amanda Prince, who said she had been told that there were some ten friends present when the stabbing occurred, questioned how it was that no one made any attempt to part the fight between the two girls.
The woman had said she could not understand why only one person was held and added that the police should have held everyone for questioning.
Prince, who had said that there were more questions than answered surrounding her daughter's death, noted that she believed that the murder was a well-planned one and that other friends who were present played a part.
Relatives of the deceased had said that Thomas and Williams knew each other since the tender age of six and Williams grew up in the same home with Thomas, where she was also treated like a daughter by Prince.
At the time of the killing, they both resided at Lot 338 Sunflower Close, South Ruimveldt.
Around the Web