Rotary Club of Demerara donated kites to the children of Help and Shelter and the St Ann's Orphanage in celebration of Easter.
According to a press release from the Rotary Club of Demerara, 67 kites were distributed to the children. Most of the kites were locally made as club members felt strongly about maintaining the tradition, it added.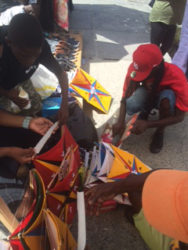 The relationship between the Rotary Club of Demerara and Help and Shelter has existed for over 10 years, the release noted, adding that the club has supported many projects such as the construction of the shelter for victims of domestic violence, the installation of anti-violence advocacy signage in many communities among others.
The Rotary Club of Demerara thanked all of its members and supporters who made the kite distribution exercise possible.
Around the Web