Richard Ramirez Ramkissoon, the labourer whose partially decomposed body was found floating at Orangestein, Parika, East Bank Essequibo foreshore on Tuesday, died from drowning and as a result of blunt trauma to his head.
This was confirmed by Commander of 'D' Division Leslie James, who told Stabroek News that an autopsy was conducted on Wednesday. While it is suspected that the dead man might have sustained the blunt trauma to his head after he allegedly plunged into the waters, James said investigations are ongoing.
The body of 20-year-old Ramkissoon of Sisters Village, West Bank Demerara was discovered on Tuesday, two days after he was reported missing. He had reportedly disappeared in the rough waters where he had ventured with his 19-year-old girlfriend to swim.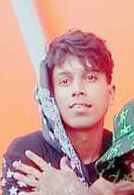 Stabroek News was previously told that Ramkissoon and his girlfriend were swimming in the Essequibo River in the Bushy Park area. Ramkissoon was said to have placed his girlfriend on his back and ventured into the deep water, where they experienced difficulties. However, he managed to push her up and she was rescued by nearby swimmers while he went under.
Ramkissoon's aunt, who did not wish to be named, had told this newspaper that since the incident, the family had been receiving conflicting reports of what transpired. As such, she said the family suspected foul play in his death.
The woman had explained that Ramkissoon was last seen alive on Saturday afternoon by his father, when he left home to visit a friend. However, as time passed and he did not return home, his family became worried and started to enquire about his whereabouts.
"He uncle call his phone on Sunday and his girlfriend mother answer the phone and said that he at the station, let we must go there," the aunt said, while explaining that on the way to the police station Ramkissoon's father called his phone and he was told that he had drowned.
Ramkissoon, who was a Venezuelan by birth, recently returned with his family to live in Guyana.
Around the Web