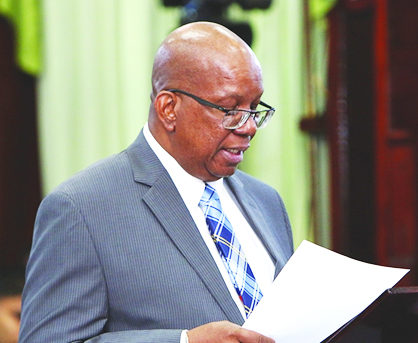 A diversified economy is the number one priority for the country and the APNU+AFC government does not want a private sector that is laid back and looking to it for all fundamental and innovative changes,  Minister of Finance Winston Jordan says.
"Don't wait for the government to lead the way; you, the private sector, are the proverbial engine of growth. You should now seize the initiative to be the engine of "green growth," Jordan told a Guyana Manufacturing and Services Association (GMSA) dinner last evening at the Pegasus Hotel.
The guest speaker at the event, Jordan called on the private sector to partner with its government to merge ideas which will in turn see the country achieving its developmental goals, especially plans for "Greening".
"While the government is expected to continue tocreate the enabling conditions for a green economy and lead by example, the GMSA needs to start acquainting itself with the (green state development strategy)  and the many opportunities afforded manufacturers.  In this vision for a clean, green, sustainable economy in Guyana, the private sector has a responsibility to ensure that this transition takes place by introducing fundamental changes in how they conduct business," he said to applause from attendees.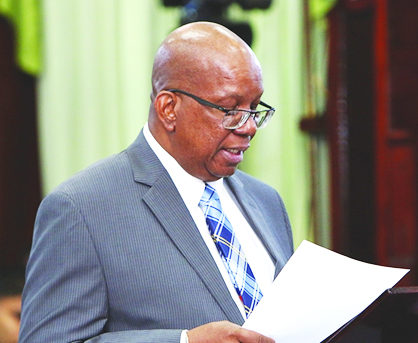 He made reference to statements he made at a diaspora meeting in Washington a few weeks ago where he had called for a "new breed" of private sector and in turn got angry feedback from the sector.
But he explained that his statements were not made to irk the business community but to explain that he meant that their means of conducting business should be "at the heart of innovation, would be using cutting edge technology, and would be joining forces with regional and other bodies to overcome deficits of financing and human resources, among others."
"What I implied in that statement is that I would like to see the emergence of people like Shyam (President of GMSA Shyam Nokta), whose achievements in the business environment blended with his youth and vibrancy, holds much promise for both advancing and transforming business organizations," he added.
And with Guyana poised to become an oil producing country by 2020, the Finance Minister informed that focus will not only be on that sector as his government has a long term diversification development plan taking into account oil or not.
"I am aware that several private sector engagements with Exxon have already yielded expanded business opportunities for many of you, and we anticipate there will be more in the coming months and years.  However, let me categorically state that the diversification of our economy, with or without oil and gas, is our number one priority."
"We are passionate about this, having witnessed what has happened to many countries with large natural resources wealth, which squandered the opportunity to use those resources for economic diversification. The painful consequences of crises and adjustment cycles have been observed, whenever oil prices drop sharply or persistently, or when the resources are exhausted, as they do ultimately.
We have an opportunity to make Guyana a model country in terms of our responsible use of the oil and gas resources. To this end, balancing the amount we save for inter-generational security and stabilization, on the one hand, and investing in the expansion of the economy, on the other are the core issues that will drive future discussions in this area," he added.
He said that what remains exciting for Guyana was that as the populace works together on achieving a green growth pathway, the development of the offshore oil and gas natural resources can be used in its fiscal plans.
Government, he said, has already formulated a number of initiatives to achieve these goals.
These include, but are not limited to, designing  both a fiscal regime and a fiscal sustainability framework to address the management of natural resources wealth and  the development of a Green Paper on the planned Sovereign Wealth Fund (SWF).
Additionally, the development of a local content policy with a time-lined work-plan on what public and private sectors need to do to prepare for first oil and thereafter is also on stream.
Both government and ExxonMobil are working on their respective local content plans, as the APNU+AFC administration feels that its human resource development was key to its overall plans for the positive transformation of the country.
And specific to encouraging manufacturing here even as it weans the nation from dependence on especially the import of food, Jordan laid out myriad plans that his government has already formulated.
It includes the pursuit of an export and investment promotion strategy, with support from the Inter-American Development Bank that will see the enhancement of the national quality infrastructure, inclusive of the construction of a modern, state-of-the art laboratory.
Also, strengthening the capacity of the Ministry of Business, including developing an information system for the network of laboratories; improving data gathering capabilities on exporters' needs on quality and standards; and improving information dissemination, awareness and capacity building.
And infrastructural and other expansion plans were not limited to the capital, Georgetown as plans are on stream for the construction of two modern abattoirs in Regions 5 & 9, among other projects.
A study, supported by the Caribbean Development Bank, to quantify the demand for development finance resources by target groups so as to inform the feasibility of establishing a National Development Bank, is also in the pipeline, he said.
Continued dialogue with the business community was needed to fuse ideas and foster trust on both sides and Jordan announced that government was pleased to state that it was committed to quarterly roundtable discussions with the private sector.
However, he stated "The dialogue needs to be more structured, more focused and more frequent. We have to work to ensure that our engagements are both efficient and productive, which means we come to the table prepared with evidence not anecdotes.'
Around the Web