There was a sharp rise in the Mathematics performance at this year's National Grade Six Assessment (NGSA) and improvements in the three other subject areas, according to the results released yesterday, but more than 50% of the 13,329 pupils who wrote the exams were still unable to pass three of the four subjects taken.
In presenting this year's NGSA results, Chief Education Officer (CEO) Marcel Hutson noted that while the pass rate in each subject improved, the most improved subject was mathematics, which recorded an increase of over 30% in the number of students gaining 50% and more. This year, 45.6% of the students who wrote this subject were able to achieve this feat. Additionally, 54.1% of students passed English, 46.3% passed Science and 47.6% passed Social Studies.
Notably, the top student earned 524 out of a possible 529 marks, while the five who placed second earned 523 and the nine who placed seventh scored 522.
Hutson explained that last year's 13.85% pass rate in Mathematics saw President David Granger issuing a directive which materialised as the $49 million Emergency Mathematical Intervention Plan and noted that this year's across-the-board improvement is a start on the path that will hopefully see all students matriculating (passing Math and English).

"Overall, the performance of the students has greatly improved and, in my estimation, I believe that this was as a direct result of the president's and by extension, his Cabinet's Emergency Mathematics Intervention done nationwide," Hutson stated.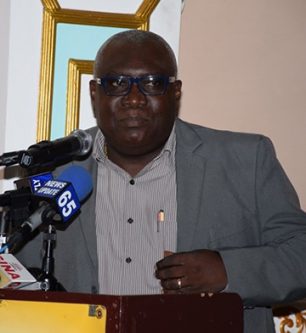 The CEO explained that the execution of the plan saw training of teachers in content and methodology, facilitation of fortnightly cluster meetings in all regions, the recruitment of Mathematics coordinators and monitors and the training of officers and school administrators to supervise the teaching of the subject. Additionally there was the administration of diagnostic assessments of pupils in the hinterland regions prior to training of teachers, enhancement of public relations, parental involvement in the education of children and the acquisition of support material for students.
He identified the sitting of mock examinations as a critical element in the success of the programme that improved pass rates across the country.
Hutson revealed that in Region One, 172 students passed Maths, a significant improvement from the six students who gained 50% and more in 2016. Similar results were seen in Region Two, where 358 achieved in 2017 what only 93 did in 2016. In Region Three, 937 passed in 2017, more than double the 317 who passed in 2016, Region Four saw 1417 passing math in 2017, while 489 passed in 2016, and in Region Five 349 in 2017, significantly more than the 85 who passed in 2016.
Hutson stressed that Region Eight, where only one student passed Math last year, recorded 62 passes, and Region Nine had 156 passes this year and 13 last year.
He took time to express gratitude to those involved, including students, parents, teachers and education officers. According to Hutson "the results are proof that together we can do the extraordinary."
Minister of Education Nicolette Henry noted that at the beginning of the intervention they were told it was too little, too late.
"What rain ain't full, dew can't full," the minister said she was told. According to Henry, despite the naysayers, those who believed persisted and have now reaped a reward.
Hutson explained that going forward the ministry will retain all the programmes that have worked, will review the Interactive Radio Learning Programme to be more useful to early learners and begin mock exams at the end of Grade Five. Additionally, it will be communicating high expectations to students and holding schools accountable for poor performances. "We can't have schools performing badly for 10 years and nothing being done about it," he said.
Top 1%
While the education officials spoke glowingly of the pass rates, it was observed that once again the top 1% was dominated by students from privately-owned schools.
Asked to comment on this continuing trend, Hutson said that it was unfair to compare the performance of private school children with that of public school children.
According to Hutson, only a little more than 400 of the students who wrote this year's exams were from private schools, while almost 13,000 are from public schools.
He stressed that while private school students outdo their public school counterparts in the context of the exams, private schools actually don't impact significantly on overall performance.
The 2017 NGSA was written on the 12th and 13th of April. For the second year, the Ministry of Education has collaborated with the Caribbean Examinations Council (CXC) to improve the quality of all primary grade assessments. Teachers, subject specialists and test development officers developed the test items with the technical guidance of CXC addressing key areas such as item construction, weighting of items, sampling and other psychometric elements.  Students were tested in four subject areas—Mathematics, English, Science and Social Studies.
Areas tested for each subject include Know-ledge, Algorithmic thinking and reasoning for Mathematics; knowledge, comprehension and application for Science; knowledge, conceptual understanding and use of knowledge for Social studies and reading, comprehension and vocabulary, structure and mechanics, content, focus, vocabulary language and organization for English language.
Around the Web