Prison Warden Hubert Trim, who was chopped and beaten during the unrest at the Camp Street prison yesterday is currently hospitalised and his relatives are calling for the authorities to provide security as he recovers.
During the unrest on Sunday, which saw most of the Camp Street jail reduced to ashes, Trim, 39, along with Jason Maltay, 20, was ambushed in the administrative building.
According to information reaching Stabroek News, Trim was badly beaten and chopped several times about his body and head and thrown through a window, while Maltay, who is also hospitalised, was shot once to his right leg.
Other wardens who were injured are 25-year old Drexel Gonsalves, who was shot to his right hand; 20-year-old Dominic Mingo, who injured both of his legs after he reportedly jumped from a rail in a bid to save his life; 30-year-old Errol Daphness, who suffered severe pains to his chest; 19-year-old Simeon Sandy; and Odinga Wickham, who was shot several times to the chest and died at the Georgetown Public Hospital.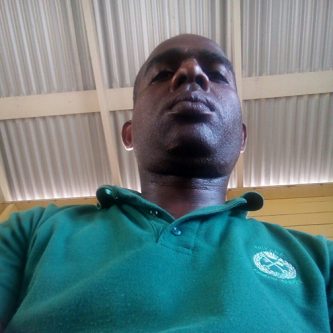 While Trim and Maltay are still at the hospital, the others were reportedly treated and sent away.
Speaking to Stabroek News yesterday, Trim's mother, Shirley Trim, explained that she heard of the attack on the prison from the radio but was unaware that her son was attacked and severely injured.
"I hear that some [prison wardens] critical, some chopped and shoot and all kinds of things and I kept calling my other children that living in town to check on if he [Trim] was safe or so," the teary woman said. She explained that she only found out that her son was severely injured late in the evening.
She said that while her son is in the process of recovering she is scared for his life and wants the Guyana Police Force (GPF) and the Guyana Prison Service (GPS) to provide guards at the hospital to ensure that he is safe.
"I would like if the authorities could get a guard to guard him because what they did to him they feel like he dead but he didn't die and seeing that he didn't die a friend might tell a friend and you never know what could happen," the woman said, while stating that she believes her son was targeted and that the prisoners who attacked him wanted him dead.
According to the woman, her son has been in the GPS for approximately 21 years; it was his first and only job. She said he had completed two years at the Government Technical Institute studying electricity, shortly before gaining employment at the GPS. He was promoted to a Chief Officer earlier this year and, according to his wife, he was a very dedicated worker.
"If they called him and said 'Trim come', he's there. Even if he just finished working and they call him out he would go. Sometime I would wonder if it was his job or his wife how he used to be. He always loved his job," his mother explained, stating that he was a very jovial and friendly person and could not understand why any of the prisoners would want to attack and kill him.
According to information reaching Stabroek News, Trim was in charge of the shift at the time of the fire.
Maltay told this newspaper that he was shot by one of the escaped prisoners, Uree Varswyck, and managed to stay alive because he stayed on the ground after he was shot to his leg.
Around the Web