Two billion-dollar bids were opened yesterday at the National Procurement and Tender Administration Board (NPTAB) for the acquisition of emergency pharmaceutical supplies for Regional Health Services under the Ministry of Public Health.
Huge bids were also opened for sea defence work.
The companies and their bids are as follows:
Ministry of the Presidency
Expansion of the Office of the Prime Minister

Construction of Kitchen Above Cabinet Roof, Building A, Shiv Chanderpaul Drive, Bourda,

Ministry of Public Infrastructure, Sea and River Defence
Resilience Project
Lot 1-Site 1- Johanna Cecelia/Zorg, Essequibo Coast, Region 2 Site 2-Success, Leguan Island, Region 3, Site 3-Endeavour/Blenheim, Leguan Island, Region 3.

Regional Democratic Council Region 6
Construction of Maternity Ward at the New Amsterdam Hospital Compound

Rehabilitation of Main Street, East Canje, Berbice

Regional Democratic Council Region Two
Construction of Liberty Primary School, Liberty Lower Pomeroon River

Extension of Charity Secondary School, Charity, Essequibo Coast, Region 2

Extension of Kabakaburi Primary School, Kabakaburi Upper Pomeroon River

Ministry of Public Infrastructure
Supply of 7500 Tons of Asphaltic Concrete for East Bank Berbice Road Project

Ministry of Public Security- CSSP
The Remodelling and Rehabilitation of Police Stations, Annai and Aishalton

The Remodelling and Rehabilitation of Police Stations at  Port Kaituma, Mabaruma, Suddie, Aurora and Issano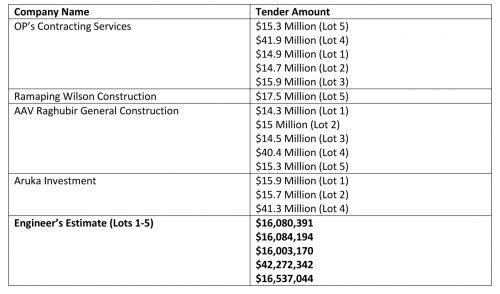 The Remodelling and Rehabilitation of Police Stations at La Grange, Cane Grove and Mibicuri

The Remodelling and Rehabilitation of Police Stations at Kwakwani and MacKenzie

Regional Democratic Council Region Seven
Construction of CT Scan Building at Bartica Hospital Compound, Bartica, Cuyuni/ Mazaruni, Region Seven

Ministry of Agriculture
Consultancy Services for Design and Supervision Services for Agriculture Centre, Lethem

Ministry of Agriculture- GMC
Procurement for the Supply, Delivery, Installation and Testing and Commissioning of a Complete Vertical Form, Fill and Seal Packaging Line with Printer for the Agro-processing Demonstration Facility, Region 3

Office of the Prime Minister
Procurement of Specialized Consultancy Services Installation and testing of Equipment for
Lot 1: Aishalton Radio Station
Lot 2: Orealla Radio Station

Ministry of Business
Construction Services the Business Incubator Centre, Phase I

Guyana Power and Light
Consultancy Services to Provide System Planning and SCADA Services to GPL

Ministry of Public Security
Procurement of Equipment, Guyana Police Force

Procurement of Community Policing Uniforms

Procurement of IT Equipment, Juvenile Holding Centre, Guyana Prison Service

Around the Web