Although an East Ruimveldt apartment was destroyed in a fire yesterday afternoon, the Guyana Fire Service came in for praise for its speedy response, which was credited for saving the neighbouring houses.
Neighbour Roslyn Toddy told Stabroek News that she was asleep in her home, opposite the apartment, when she started to smell smoke.
"It smell like paper burning and my daughter said something burning, so I look in my house and I didn't see anything but I kept smelling it more," Toddy said, before adding that she eventually looked out and saw smoke emanating from the building.
She said she started to "holler fire, fire" and alerted the neighbours, who formed a bucket brigade.
She explained that her sister, Natasha Delph, lives in the apartment next to the one that was on fire but was sleeping at the time.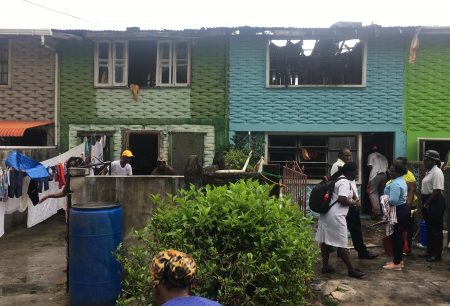 However, Delph's husband was in the vicinity at the moment and he was alerted.
"She husband rush and break in the door and wake them up and started throwing water everywhere but thank god the fire service reach by then," she added.
The fire started around 2 pm and Toddy explained that the fire fighters took only a few minutes to arrive.
Because of their valiant efforts, only one apartment was destroyed by the fire. The other adjacent apartments suffered water damage.
At the time of the fire, no one was home in the apartment that was destroyed. Neighbours around the area gathered yesterday and assisted with moving the furniture and electronics out of the wet apartments and  complimented the Guyana Fire Service for its response.
"That's the fastest I ever see a fire truck reach to a fire and actually prevent anything from bunning down. I'm glad that it was only one place that get destroy and they was able to contain it and prevent it from reach the other apartments," one man said.
Around the Web