Police on the West Bank of Demerara were last night able to apprehend murder accused Desmond James, one of the six prisoners who escaped from the Camp Street Prison during Sunday's jailbreak.
Commander of 'D' Division Leslie James confirmed that at 10.50 pm,  acting on information received, ranks proceeded to an abandoned house on an access dam at Canal Number 1, West Bank Demerara, where they conducted a search that led to the discovery of James.
James, who is said to have had a knife and several pieces of clothing in his possession, reportedly told police that he planned to travel to Essequibo.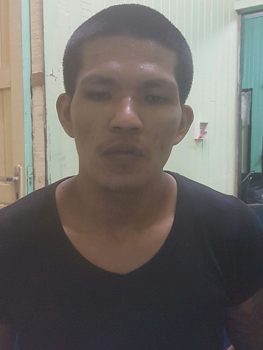 James, 24, whose last known address was Hotoquai Creek, North West District, was one of the inmates who had testified during the Commission of Inquiry (CoI) into the fire that had claimed the lives of 17 prisoners at the Camp Street facility during March last year. He had been incarcerated over the 2014 fatal stabbing of Glendon Cox. The murder had occurred at 4 Miles Arakaka Village, North West District.
The other escapees still being sought following Sunday's prison break are Mark Royden Williams, Uree Varswyk, Stafrei Alexander, Cornelius Thomas and Cobena Stephens.
Around the Web