A Laing Avenue man is now a remanded prisoner after he was faced with three charges, including shooting at another man.
Jermain Phillips, 24, of 114 Laing Avenue, was granted bail by Georgetown Magistrate Leron Daly on the charge that he discharged a loaded firearm at Troy Grant, with intent to maim, disable, disfigure or cause grievous bodily harm to him on June 14, at Norton Street, Georgetown. His freedom was short-lived, however, as he was subsequently remanded on related charges of unlawful possession of a pistol and a quantity of ammunition.
Phillips, a father of three, pleaded not guilty to the charges.
For the charge of discharging a firearm, Phillips' lawyer, Adrian Thompson, argued that his client should be placed on bail.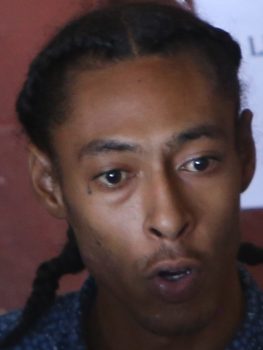 According to him, Phillips was picked up by the police and kept in their custody for several days without charge. The lawyer said the police were holding his client on other charges but then decided to charge him with shooting at a man that he did not even know.
Thompson argued that it seems as though the charges against Phillips were trumped up, since he was never placed on an identification parade.
However, Police Prosecutor Sanjay Singh objected to bail for Phillips because of the nature and penalty of the charge. Nonetheless, Magistrate Daly later granted bail to the accused in the sum of $400,000.
However, moments after Phillips was sent to the court's holding cell, he was brought back up to the magistrate and was read the two additional charges for possession of the gun and ammunition used to shoot at Grant.
The charges stated that on July 11, at Laing Avenue, he had a .40 Glock pistol and 17 .40 rounds of ammunition in his possession without being the holder of a firearm licence.
Thompson lamented that the police had arrested two other persons for the crimes but only his client was charged.
But the prosecutor maintained that only Phillips was arrested, since he was found with the gun and ammunition in his possession. According to Singh, on the day in question, the police, acting on information, contacted the accused. He said when Phillips saw the police approaching, he began to run but he was quickly apprehended.
Magistrate Daly subsequently remanded Phillips to prison on the two charges until August 7, when his next hearing is scheduled.
Around the Web