Four High Court judges and one appellate judge were yesterday sworn in by President David Granger who said that persons holding these offices must display high moral standards and he reiterated that government will not interfere in the judiciary's work.
"Judicial officers must be held to the standards of independence, integrity and impartiality. They must be rigorous and scrupulous in their legal research, conscientious and diligent in hearing matters and clear and cogent in their judgments. Judges are expected to be exemplars of high moral standards and personal propriety", he said during a swearing-in ceremony held at State House.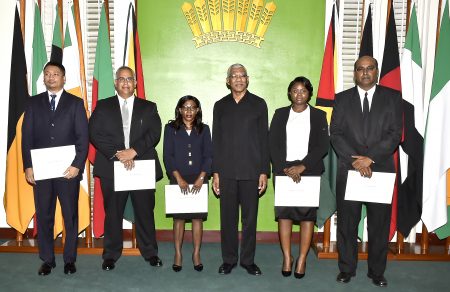 Attorneys-at-law Simone Morris-Ramlall, Damone Younge, Sandil Kissoon and Gino Persaud are now puisne judges while High Court judge Rishi Persaud has been elevated to the Court of Appeal. Gino Persaud at age 38 is the youngest attorney to be appointed judge.
Speaking to an audience which included senior members of the judiciary, attorneys and government officials, Granger informed that the appointments were based on recommendations made to him by acting Chancellor Yonette Cummings-Edwards on May 8th and July 5th this year.
Article 128(1) of the Constitution provides that judges, other than the Chancellor and Chief Justice, are appointed by the president, "who shall act in accordance with the advice of the Judicial Service Commission." Article 128(2) also provides that "the President shall act in accordance with the advice of the Judicial Service Commission and appoint a person to act in the office of Justice of Appeal or Puisne Judge, as the case may be."
Granger stated that the Executive branch of government indicates its "unreserved commitment" to promoting, protecting and preserving judicial independence which can be safeguarded through respect for the separation of powers, respect for the rule of law and respect for the principle of non-interference.
"The Executive branch of government has no interest in interfering in the adjudicatory role of the judiciary nor will it condone any interference in the work of the judiciary. Threats to the independence of the Judiciary must be repelled", he said whole underscoring the vital role that the judiciary has.
Though he spoke about respect for the judiciary, Granger's government had come under close scrutiny earlier this year after his Attorney General Basil Williams was accused by Justice \Franklyn Holder of  "despicable conduct" in his court and  "contemptuous behaviour." The months-long controversy over this matter only came to an end when Justice Holder recused himself from hearing the case in question. Williams tendered no apology for his conduct.
Granger yesterday said that the independence and efficiency of the judiciary relies on there being "a full complement of judges and magistrates. We (government) will ensure respect for judicial appointments. We will support the efforts of the judiciary in ensuring that vacancies are filled".
According to Granger, government expects that all recommendations for appointments will be based on merit and later stressed that government does not dictate who should be appointed.
The swearing in ceremony, he said, is a reflection of government's commitment to filling vacancies in the judicial system. "It is also an affirmation of our commitment to ensuring a judicial system that is independent and efficacious.
Justice Gino Persaud in brief comments to the media following the conclusion of the ceremony said that he is honoured to have been selected by the Judicial Service Commission (JSC). "I look forward to meeting the challenges ahead. Throughout my life I have always been interested in fairness and justice being served", he said adding that he intends to uphold the highest qualities of fairness and justice in discharging the functions of his office.
Justice Persaud is a co-founder of anti-corruption watchdog group, the Transparency Institute of Guyana Inc. He worked in the Attorney-General's Chambers for three years before taking up an attachment at the Guyana Revenue Authority and then going into private practice as a lawyer at the de Caires, Fitzpatrick & Karran law firm.
Justice Kissoon who was in private practice up until his appointment told reporters that he prays that God gives him the courage, knowledge and wisdom to discharge the functions of his office. "I promise to always uphold, defend and protect the constitution of Guyana", he said adding that he will give every man or woman, his or her due according to law, to the best of his ability.
Justice Morris-Ramlall was employed as the Managing Attorney at the Legal Aid Clinic. She was admitted to the bar in 2000 and served in the Chambers of the Director of Public Prosecutions until 2004. Her next stint was at the Attorney General's Chambers, where she remained for one year. After four years in private practice, she started her service at Legal Aid in 2009. Justice Morris-Ramlall is also a past president of the Guyana Association of Women Lawyers.
Justice Younge had been employed as State Solicitor/Public Trust, based at the Ministry of Legal Affairs/Attorney General's Chambers.
Justices Younge, Kissoon and Rishi Persaud, according to reports were on the list submitted to President Granger last year May by the previously constituted JSC headed at the time by now retired acting Chancellor Carl Singh. The President did not act upon this list for a year. He waited until the appointment of Justice Cummings-Edwards as acting Chancellor at which time an amended list was tendered. Also on the May 2016  list was Justice Dawn Gregory who was in May this year sworn in as an appellate judge after Justice Cummings-Edwards had made her recommendations.
Justice Rishi Persaud's elevation has boosted the complement of appellate judges to four. A full complement should consist of five while the minimum number required to hear a case is three. Hearings at the Court of Appeal came to a halt in February following the retirement of Justices Singh and BS Roy. It was only after Chief Justice (ag) Roxane George and Justice Barnes were appointed as appellate judges in May that the court resumed its work. The other appellate judge is the acting Chancellor, Justice Cummings-Edwards.
Around the Web