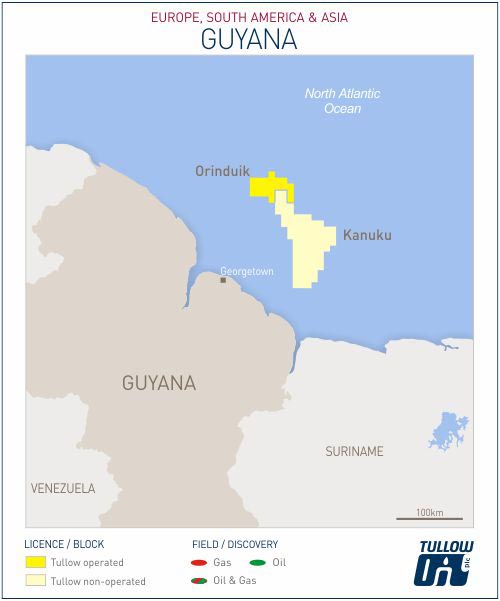 Tullow Guyana B.V.has commenced an approximately 2,550 km2 3D seismic survey on the Company's Orinduik Block offshore Guyana.
An advertisement in Saturday's Stabroek News said that the survey site is approximately 102 nautical miles from the coast of Guyana and encompasses an area of approximately 1801 square kilometres.
Three vessels will be operating in the area.
The seismic survey is a further sign of stepped up international interest in the Guiana basin  where ExxonMobil has already made a huge oil find and found other smaller wells,  
Eco Atlantic (Guyana) Inc, a subsidiary of Eco Atlantic, holds a 40% Working Interest in Orinduik, and Tullow, the multinational Operator based in the UK, holds the remaining 60%. A release last month from the Tullow consortium  said that the Orinduik Block is located up dip and just a few kilometers from Exxon's recent Liza and Payara discoveries confirming, by Exxon's estimates, in excess of 1.5 Billion Barrels of recoverable oil. The release said that the Company and Tullow have completed the first phase of exploration including analysing all existing and regional 2D data.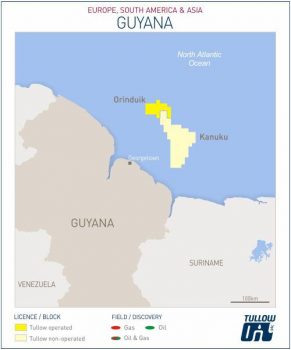 "Following the results of this study and the ongoing regional success, both parties have agreed to accelerate and significantly increase the originally proposed 1,000km2 3D survey commitment on the block to circa 2,550 kms2, thus covering the entire block area, fully overlapping current prospective 2D leads and downdip trends. As part of its agreement with Tullow, Tullow will carry the Company's share of the originally proposed 1,000 km2 of the survey, at a cap of US$1.25mm, with the balance of the program being funded by both parties on a pro-rata basis. The additional cost of the enhanced seismic program to Eco is well covered by existing cash resources following the Company's over-subscribed Placing of GBP5.1M announced in February 2017 in conjunction with its dual listing on the AIM market of the London Stock Exchange."
Colin Kinley, Chief Operating Officer and co-founder of Eco Atlantic stated in the release: " "The 2D interpretation has led to at least two significant reservoir leads on the Orinduik block that both we and Tullow believe may hold significant oil comparable to the world class regional discoveries identified by Exxon. Eco Atlantic expects to confirm a number of drilling targets with this increased 3D Survey, ahead of drilling of the first well in Orinduik, hopefully in 2018."
Tullow has interests in over 100 exploration and production licences across 18 countries which are managed as three Business Delivery Teams: West Africa, East Africa and New Ventures.
Around the Web