Local broadcasters were yesterday urged to self-regulate or have the Guyana National Broadcasting Authority (GNBA) regulate them, with the warning that this would come with consequences.
This caveat was issued by Chairman of the GNBA Leslie Sobers, while he lectured members of the local broadcasting fraternity on their social responsibility of the content they broadcast, as he called on them to ensure the content they deliver is wholesome for their viewers.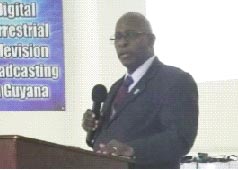 At a meeting yesterday with television broadcasters to discuss the roadmap for the transition from analogue to digital terrestrial broadcasting in Guyana, the GNBA Chairman spoke to radio and television broadcasters on the seriousness of publicizing insensitive content to the public.
According to Sobers, broadcasters should be careful and be more responsible with the type of content that is broadcast to their viewers. He noted that since he has been chairman of the GNBA he had to reprimand several radio announcers and television stations on speaking and broadcasting lewd content, mispronunciation of words and airing inaccurate and insensitive information.
According to Sobers, as long as content is being disseminated to views or audiences, GNBA has a right to monitor broadcasters. "We have a responsibility to our people. At the GNBA we monitor to ensure that there is no harm coming the way of our citizens," the chairman said.
During his presentation, the GNBA chairman said that broadcasters should also avoid disseminating material which might lead to crime, violence or civil disorder, in the society as well and to rebuke viewers or audiences who call in to incite violence or fear.
He said that though broadcasters have freedom to air content, that freedom requires an equal demonstration of responsibility. "As we enjoy freedom of expression we must exercise responsibility in the way we exercise freedom," he noted.
Sobers said broadcasters should self-regulate and monitor the content they air. "Monitor yourselves by ensuring that you have a proper policy of what to broadcast… broadcasters must be able to sit and decide in their own minds whether this is appropriate or not, am I being responsible when I show this…?" Sobers related. He added that as there is self-regulation broadcasters should be able to recognize what is needed to help development, and what should be brought and diffused to children and to the citizens.
The chairman said that if broadcasters do not self-regulate or monitor themselves, the GNBA will have to do it and it will come with consequences. He urged broadcasters to acquire a framework on self-regulation, and to follow the Broadcasting Act.
Around the Web