A day prior to going to the Criminal Investigation Department (CID), where he would allege knowledge of a plot to kill the President, Andriff Gillard had made it known to police at the Grove Police Station that he would be going to the media to report them, a police officer has testified.
"Andriff replied to me on the phone saying that he's not coming to any (expletive)  station. Those exact words he said. And that he's going to Travis Chase news for the entire station. He also mentioned a few names—Inspector Ram, Constable Goolcharran, Nizam and the station sergeant," Corporal Julian Griffith testified last Friday at the Commission of Inquiry (CoI) probing the alleged plot and how it was investigated by police.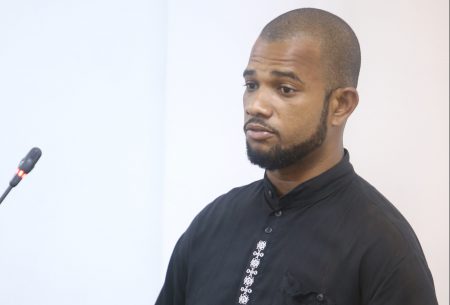 Gillard reportedly said the aforementioned during a conversation between the two on March 28, over the phone, concerning a complaint of simple larceny of tyres by Stephen Persaud, Gillard's neighbour.
The CoI has placed some amount of emphasis on the issue during questioning, as Persaud had reportedly turned up at CID on the day Gillard made the allegation to police about the assassination plot.
In addition to this, Gillard's evidence is that he has made numerous reports to the Grove Police Station in regard to Nizam Khan, who he claimed offered him $7 million in 2015 to assassinate the President.
As his reports went uninvestigated, he said he then approached the Ministry of Public Security on March 29, when he informed them of the plot allegation. He was then taken to CID where investigations began.
When a confrontation was held on March 29 between Gillard and Persaud, Griffith said that Gillard reportedly refused to write a statement, saying he needed to first go to the Ministry of the Presidency and consult with his lawyer.
In his evidence, Griffith said that as far as he knows, the report of the tyre incident had nothing to do with Nizam Khan and he said at no point did he feel that Nizam Khan was behind Persaud's allegation.
His evidence also stated that both Khan and Persaud live next door to Gillard.
However, when Sergeant Komal Pitamber testified before the commission, he said that after they had conducted the search at Khan's house and travelled back to the CID, there were two men there waiting to make a report against Gillard in relation to a tyre incident.
"…I find this rather strange that all of this [the travel to and from Diamond and the search of the premises] would have been done in that time. And more than that, within this brief time…people were able to come on their own. How they know of this thing to come and say they come to give statement in relation to this matter?" Commission Chairman Paul Slowe questioned at the time.
Pitamber said that as far as he was aware, their complaint was in an unrelated matter and has no bearing on the investigation. But later, under cross-examination by Ian Chang, attorney for the Police Force, he said that he did get the impression that Khan had been siding with the two men and they were "against" Gillard.
Corporal Griffith testified that on March 27, he was the subordinate officer in charge of the shift at the Grove Police Station when Persaud claimed that Gillard stole three tyres from his business premises at Diamond junction.
He said that when he contacted him, Gillard admitted to removing the tyres, but said he had consulted the Grove Neighbourhood Democratic Council, as well as Inspector Ram, who was in charge of the station at the time, before he removed the items.
When Inspector Anand Ram testified before the commission on Monday, he denied giving Gillard permission to remove the articles, although he said in his evidence that on March 28, Gillard called and told him that persons had blocked the front of his road with tyres. This is a day after Griffith said the report was made.
Corporal Jermaine Laundry is scheduled to be called before the commission again today, while Assistant Commissioner of Police David Ramnarine and Inspector Prem Narine are expected to be summoned to appear on Thursday. Attorney Glenn Hanoman also requested that his client, Imran Khan, be called to the stand on Friday. The possibility exists that two further witnesses, "Terry" and "Dirty," requested by Nizam Khan, will also be called on Friday, to testify as witnesses in an incident between him and Gillard.
Around the Web