Trials to determine which areas here are conducive for the production of Quinoa are likely to begin this September, a release from the National Agricultural Research and Extension Institute (NAREI) said on Wednesday.
Quinoa is a herbaceous annual plant cultivated as a grain crop primarily for its edible seeds.
NAREI, Felix Quinoa Farming Industry (FQFI) and the Food and Agriculture Organization are collaborating to make this a reality, the release said.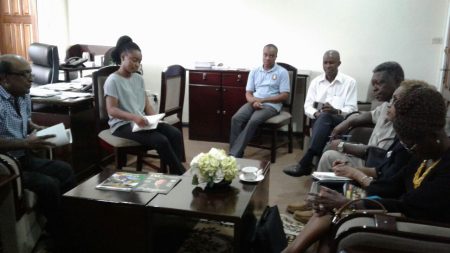 On Wednesday, Chief Executive Officer of NAREI, Dr. Oudho Homenauth, Deputy CEO of NAREI Brian Sears and NAREI's Monitoring and Evaluation Officer Latecia Frank met with a team from FQFI headed by the company's CEO and President Joan Perry. The discussions which encompassed the importation of seed materials, possible trial sites, and technical training and support were held in Dr. Homenauth's Mon Repos Office.
In July 2015, FQFi, a US-based Incorporation, signed a Memorandum of Understanding with the Ministry of Agriculture outlining areas of partnership for the introduction and production of Quinoa here. The release said that FQFI was formed in response to a call by the United Nations to introduce Quinoa in developing countries by 2020 in light of the negative effects of climate change on agriculture.
According to Dr. Homenauth, NAREI and the government here are committed to the introduction of Quinoa to Guyana. He noted that Minister of Agriculture, Noel Holder had announced  during his National Budget 2017 speech in the National Assembly that Guyana will be introducing this new crop.
Dr. Homenauth highlighted several areas in which NAREI could assist FQFI. They include aiding FQFI to speedily access seed materials; earmarking Ebini, Kairuni, Mon Repos and Canje (New Forrest Area) as possible trial sites; soil testing and data collection; and monitoring of the trial sites and providing technical backing.
According to Perry, FQFI has partnered with experts on Quinoa at the University of Maryland and Brigham Young University in the United States and Chile FAO. Whilst their overseas counterparts have been providing help, locally FQFI has begun land preparation for the trial plots in Canje. She said that FQFI owns 350 acres of land in the Canje area and the aim is to access a further 2,000 acres through lease from Government.
Speaking on the MOU, Perry said that FQFI is seeking to have Quinoa grown on a large scale here  with the involvement of other farmers. She said that FQFI already has a list comprising over 150 persons who are willing to cultivate their lands with Quinoa. Special emphasis will be placed on female farmers for gender equality and women empowerment purposes.
Around the Web