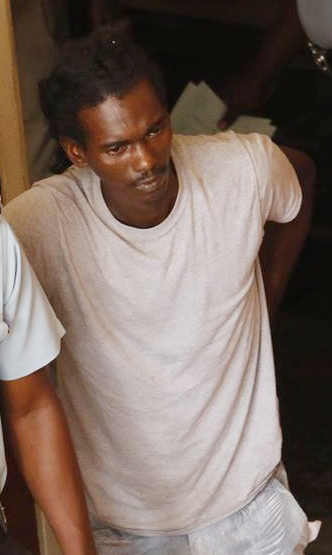 A police constable was yesterday granted self-bail after being charged with discharging a loaded firearm at a Lindener, who sustained life-threatening injuries.
It is alleged that James Bowman, of Mocha Arcadia, discharged a loaded firearm at Glen McCurdy on June 25, at Omai Landing, with the intent to maim disfigure or disable.
Bowman denied the allegation after it was read to him by Chief Magistrate Ann McLennan.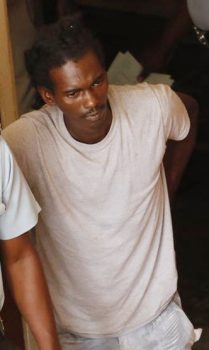 Police Prosecutor Arvin Moore made no objection to bail being granted. He told the court that on the day in question, the police were patrolling the area and saw McCurdy with a bag on his back, acting in a suspicious manner. The police approached the man, the prosecutor noted, and he then took out a chopper and began to advance towards the police.
According to Moore, the police began to step away from McCurdy and warned him but he kept advancing, resulting in the rank shooting him in his abdomen.
Based on the account presented by the prosecutor, the Chief Magistrate granted the accused self-bail and adjourned the matter until October 17, when it will be called at the Mahdia Magistrate's Court.
Last month, McCurdy was charged with being in possession of 320 grammes of cannabis for trafficking.
McCurdy's attorney, Glenn Hanoman, had told the court that on the day of the incident his client had been shot with a high-powered weapon, resulting in some of his intestines exiting his body along with the bullet.
A medical report that was done for McCurdy after treatment at the Linden Hospital Complex stated that he suffered abdominal trauma caused by a gunshot wound and that his small intestines had been outside of his abdominal cavity. It also stated that the injuries were "life threatening" and would "leave disability." It noted that McCurdy had a "very poor prognosis" and that complications were to be expected after surgical intervention, if successful.
It was his family's fear that McCurdy would have developed septicemia since he was not making regular hospital visits as was advised by the doctor.
Around the Web