A 51-year-old grandmother was yesterday sentenced to four years in jail, and fined $21 million, after she pleaded guilty over the almost 20 lbs of cocaine which was found in a cooking gas cylinder at 25 Delph Avenue, Campbellville, last Sunday.
Naomi Persaud and her 17-year-old grandson stood before Magistrate Fabayo Azore who read a charge which stated that on August 6, at Delph Street, Campbellville, they had in their possession 9.626 kilograms of cocaine for the purpose of trafficking.
Subsequent to the charge being read, Persaud entered a guilty plea and the charge against her grandson was dismissed by the prosecution.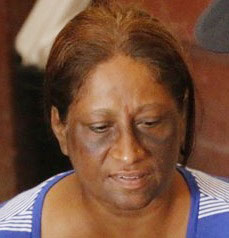 Magistrate Azore later sentenced the accused and fined her $21,225,330.
Ranks of the Customs Anti-Narcotic Unit (CANU) made the discovery on Sunday after a raid was conducted on Persaud's home. At the time of the raid her grandson was present, along with a 17-year- old female, who was released after questioning.
A wanted bulletin was yesterday issued for Andre Gomes, aka, Zipper who is wanted in connection with the drug bust, after it was discovered that the house was rented in his name.
Around the Web