President David Granger yesterday met with Baroness Valerie Amos, now Director of the SOAS-University of London, former Leader of the House of Lords where they discussed, among other issues, Guyana's 'green' development pathway.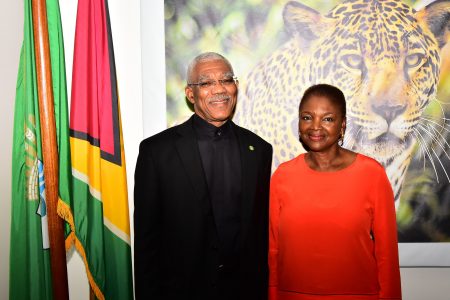 A release from the Ministry of the Presidency said that the President  told Baroness Amos that the preservation and sustainable management of the environment is central to Guyana's development, despite the country's future as an  oil-producing nation. The President also briefed Baroness Amos on his plans to establish Protected Areas in all of the Regions of Guyana.
Baroness Amos said, like the President, she too has a deep interest in mitigating the effects of climate change. She said, according to the release,  that it is commendable that Guyana is taking up a lead role in the fight against climate change and has already begun taking steps to protect its biodiversity.
The former Leader of the House of Lords, who assumed the position of Director for the SOAS –University of London (formerly known as the School of Oriental and African Studies) in 2015, was born in in Dry Shore on the Essequibo Coast and lived in Wakenaam until she was nine years old.
Around the Web