At 42, Nicola Clement is both a mother and grandmother who has spent years supporting and celebrating the academic achievements of those around her. Now she is the one being celebrated.
Clement is among students of the Sophia Night School who have gained passes at the Caribbean Secondary Education Certificate (CSEC) examinations.
Clement herself was able to secure a Grade I pass in English A and a Grade III pass in Office Administration.
Yesterday, fighting tears, Clement, a librarian, told the newest registrants to the night school's CSEC programme of just how much it took for her to persevere and complete her milestone, more than 20 years after leaving high school.
"I have four children and one of them got 10 subjects and sometimes she does wan show off on me with she big words but when I see this programme on the TV, I say, 'Nicola this is your chance.' They at home don't want to help, they ain't got the patience but here once you push yourself, once you keep trying, they will work with you," she explained.
Speaking with Sunday Stabroek at an orientation at the Sophia Training Centre, Clement added that though financial circumstances meant she did not get a chance to write CXC, she stands as a living example and proof that if you put your time and dedication into anything, you can achieve your goals.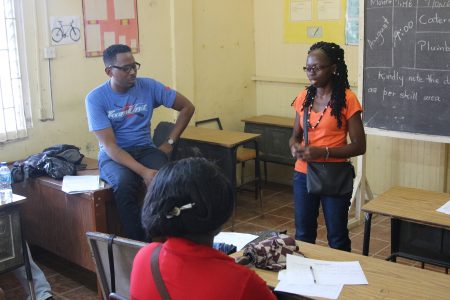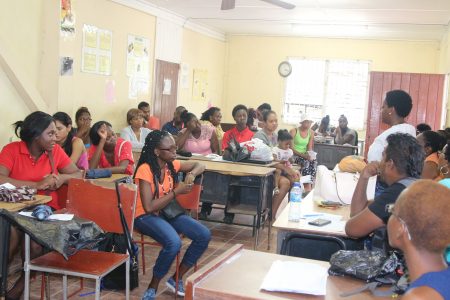 The night school is operated by the Sophia Community Development Association (SCDA), with funding from the office of the Presidential Advisor on Youth Empowerment Aubrey Norton.
SCDA Programme Director Leroy Adolphus told Sunday Stabroek that while he is proud of this year's performance, he is hoping to be able to attract private sector support to expand the reach of the programme.
Presently, the school has registered 80 students for this year's English Language class alone, which is much more than the facilities at the Sophia Training Centre can accommodate.
Adolphus explained that the teachers are paid through the Ministry of the Presidency but the programme, which is one of three pilots, is still in need of materials, such as furniture and other teaching aids.
"There are similar programmes in Festival City and Soesdyke, which like this one, emerged when Norton recognised that many in the community had two or three subjects. The threshold for employment and further education is five subjects so this emerged as a means to build the residents to that threshold," Adolphus explained.
He noted that as someone who holds a Masters in International Relations and Development he decided to use his skills to assist the members of the community, in which he has lived for 10 years.
"I could not have these skill and not use it to help my own community. Sophia is a space where the narrative can sometimes be too negative. I and the other members of the development association want to show that even in a space where the socioeconomic standing is below average, much can be achieved. Our motto is 'Empowering through Community Participation and Development' and that is exactly what we hope the private sector can help us do," Adolphus stressed.
"It's about giving people second chances," he added.
Artist Alice Cameron knows all about what a second chance can do for you.
The businesswoman, who secured results similar to Clement, noted that it was a challenge as an older student who has not studied for years and it was difficult for her to get back into the right mindset.
"I am grateful that I was able to get good grades and I am ready to move on and further develop myself," she told Sunday Stabroek, while noting that if not for the support of her family and fellow students at the school, she would not have persevered.
Both Nicola and Alice will be returning to the school; Alice to pursue Mathematics and Accounting so that she can build her business and Nicola to pursue Mathematics.
They will be joined by another classmate, 32-year-old mother of six Chandrawattie Ally, who was grateful to the night school for helping her to gain a Grade III pass in English.
Ali noted that having achieved poor results when she first wrote the exams in 2002, she was discouraged but this success has bolstered her and has made her willing to continue to work for more.
The Sophia Night School is currently offering classes in English Language, Mathematics, Electronic Document Preparation Management, Social Studies, Principles of Accounts, Principles of Business, Office Administration, Integrated Science, Human and Social Biology and Agricultural Science.
Around the Web