Mohamed 'Fuzzy' Sattaur, the former Chief Executive Officer (CEO) of the state-owned National Communi-cations Network (NCN), died yesterday.
Stabroek News was unable to make contact with his immediate family yesterday but friends said that he had suffering from a heart condition and diabetes at the time of his death. He died in hospital.
At the time of his death, Sattaur was the administrator of the Cheddi Jagan Research Centre, a PPP-aligned entity.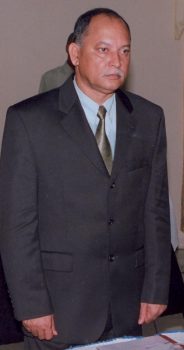 NCN employee Wendy Hermonstine stated that she was shocked when she got the news around 1.30 pm.
She said that she was informed that he died around 1 pm. He is to be buried tomorrow according to Muslim rites.
Hermonstine worked with Sattaur from 2004, when he was appointed the first CEO of NCN, which was birthed that year out of the merger of the Guyana Television Broadcasting Company Limited (GTV) and Guyana Broadcasting Corporation (GBC). He resigned in June, 2012.
She remembered him as having a jovial personality and fair-minded work ethic. Sattaur's resignation coincided with the then Programme Manager, Martin Goolsarran, being suspended for eight weeks following investigations into financial irregularities at the company. Weeks earlier, the NCN board had launched an investigation into suspected financial irregularities at the network.
Sattaur was also the subject of the Special Organised Crime Unit's attention earlier this year when the Pradoville Two investigation was being conducted. Sattaur was at the helm of the state agency when a broadcast tower was removed from the Pradoville Two area to the facilitate housing development. It is unclear if SOCU officials were ever able to speak to him.
Around the Web