Demerara Distillers Limited  (DDL) yesterday announced a programme of development that would see the company investing $10b (US$50m), over the next three years.
Speaking yesterday after a tour of DDL facilities by Prime Minister Moses Nagamootoo and Minister of Business Dominic Gaskin, the DDL Chairman, Komal Samaroo said that the investments over the next three years, "are in pursuance of DDL's strategic goals to increase its export earnings [and], to diversify its income base; not only in alcohol but other things like food processing and other non-alcoholic beverages."
A press release from DDL said that the new expansion programme includes "some projects that have already started, some projects that are ready to go, and some projects that are in various stages of the planning process".  It said that projects that have already started include the new warehouse for storing aging rums. Projects that are ready to commence include the new blending department and the new DSL warehouse.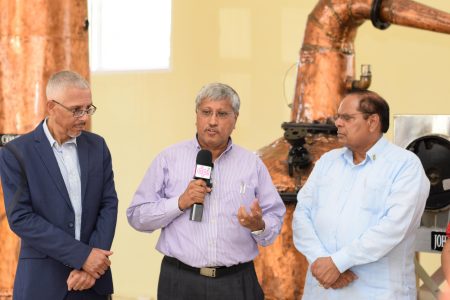 Prime Minister Nagamootoo said, "I am delighted to see that our local manufacturers are hard at work ensuring that our local products reach the global markets." He added that "the expansion plans outlined … demonstrate the company's continued confidence in our economy, as a government we will continue to support them and all manufacturers of local content."
Gaskin, describing DDL as "one of the biggest value-added companies in Guyana and probably Guyana's most successful value-added company," wished the company well with its expansion plans and said that the government stands ready to give support.
Around the Web