President David Granger on Sunday commissioned a turmeric factory in Region One, according to a press release from the Ministry of the Presidency.
Turmeric is part of the ginger family and is a key ingredient in curry powder. It is also valued for its medicinal properties.
The release described the commissioning of the Hosororo Turmeric Factory as an ambitious move towards agro-processing.
Turmeric has been grown in this area for a number of years. The factory will transform the turmeric into a powder.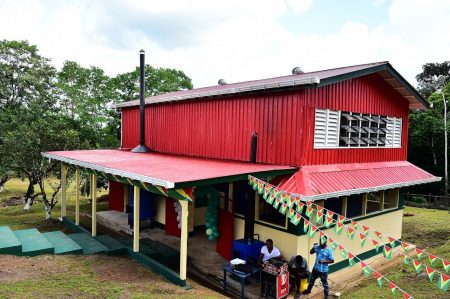 The release added that the commissioning of the turmeric factory falls squarely in line with President Granger's push towards agro-processing.  The factory will utilise turmeric from small farmers in the Region. Dr. Oudho Homenauth, Chief Executive Officer of the National Agricultural Research and Extension Institute (NAREI), said that the project is one of the transformative ones that the Ministry of Agriculture through NAREI is working on to promote agro processing and sustain the livelihoods of small farmers.
The release said that Guyana currently imports 166 tonnes of turmeric each year, but with the factory operational, it is anticipated that by 2019, it will be able to satisfy local demand and also produce enough product for export.
The small farmers of the Region, Dr. Homenauth said, will be the main beneficiaries of the project.
"All money will remain in this Region for the development of this Region," he said.  NAREI is also making plans for expanding production to include black pepper and ginger and has already cultivated 50 acres of the former.
Around the Web