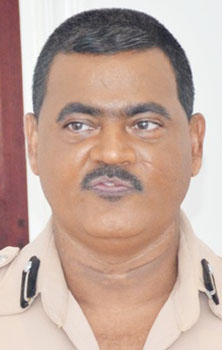 Though many residents of Brothers Village, East Bank Berbice, have alleged that a man recently charged with the murder of a teenage boy was a serial abuser and that police did not act on reports of his activities, none of them contacted the police officer sent from Georgetown to record their claims.
This is according to Police Commissioner (ag) David Ramnarine, who said on Wednesday that the officer at the end of his five-day visit found no evidence of the gross unprofessional conduct that the residents spoke of.
Ramnarine at the time was speaking at a press conference.
He said that following the murder of 13-year-old Leonard Archibald, there was a public outcry from relatives and friends that police were unprofessional in dealing with previous reports made against one of the suspects.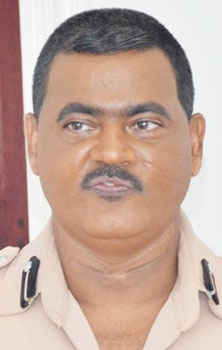 The suspects he was referring to are Hilary Edwards, 29, and Obadiah Christopher, also known as 'Nicholas,' 19, who were charged separately on September 27 with Archibald's murder.
According to Ramnarine a senior officer was sent to the area and "to the credit of the police we have not found evidence of this gross unprofessional conduct of the police in not responding to any report made. It is unfortunate that according to the officer no relative or resident in the community called him on his cell phone …though he spent five days in the district, to give him any information or to substantiate what they had said to the press."
He said that despite getting no reports, the officer will prepare and forward a report to the Minister of Public Security Khemraj Ramjattan in due course.
On September 17, Archibald of Lot 11 Brothers Village, disappeared after he left home to pick up two of his sisters from a birthday party in a nearby village. He was last seen riding a bicycle on the Sisters Village Public Road. After a police report was filed, investigators placed two men from Sisters Village in custody; the prime suspect, Edwards, and his friend, Christopher, at whose house Edwards would usually hang out at, and which is located four houses away from the Sisters Police Station.
Days later during a search, the missing teen's bicycle was discovered in the Berbice River behind Christopher's house. Police subsequently alleged that one of the accused confessed.
It is alleged that Edwards kidnapped the teen and raped him, after which he dumped his unconscious body behind Christopher's house, into the Berbice River. After the alleged confession became public knowledge, relatives of the boy and residents of the East Bank Berbice area searched until Archibald's decomposed body was found on a mudflat, located at the back of Kortberaad Village, on the Berbice River, some three miles from Brothers Village, East Bank Berbice, where the teen lived.
An autopsy was performed on Archibald's decomposed body but the results were inconclusive.
During a march on September 23, residents had said that they were angry at themselves for not seeing that the main accused was held accountable for his previous attacks on youths in the community. Many residents told Stabroek News that reports of the suspect interfering with young boys in the East Bank Berbice community were lodged at the Sisters Police Station, but much was never done. "Every time he attack one child, he a gon' go hide and come back like four, five weeks after and be time then them police forget about the incidents and them boys a shame, some them na want it carry up," a woman said.
Around the Web