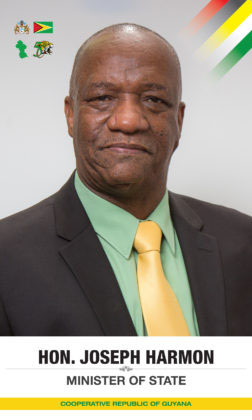 Minister of State Joseph Harmon yesterday maintained that his holding the office of Secretary to the Cabinet while being both the Minister of State and a Member of Parliament (MP) is not a violation of the Constitution, which says the office holder shall be a civil servant.
He was responding to a recent suggestion by former Cabinet Secretary Dr Roger Luncheon, who held the post during successive PPP/C administrations, that it is improper for him to also hold political offices.
Luncheon, in a letter published in Wednesday's edition of the Stabroek News, also cited similar concerns over Harmon's holding of the office of Secretary to the Defence Board.
"I raise these two concerns because during my tenure as both the Secretary to the Cabinet and Secretary to the Defence Board, between 1992 and 2013, I, at no time, had reason to believe that as a Minister and Member of Parliament, I could still act in these two posts," he wrote.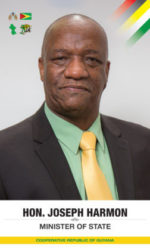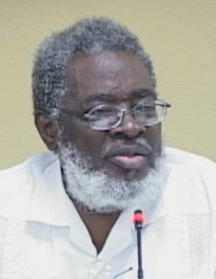 Harmon, however, made it clear that there is no breach of the Constitution.
"I want to know if Dr. Luncheon just woke up… After two years he recognise that? Dr. Luncheon is a medical doctor. He is not a constitutional judge and I read what he said," Harmon told reporters shortly after delivering the feature address at an observance for the International Day for Disaster Reduction.
"I don't appoint myself and I am sure that the government has taken note of what needs to be done to this country and therefore we will not be stymied by what Dr. Luncheon and the entire PPP are trying to do now… every single item, every single day, they are trying to raise up something," he said.
Harmon added that PPP/C MP Clement Rohee had raised the same issue in the National Assembly last year during the budget debate and he responded to him. "I believe that was a fulsome answer, which was given," he said.
In his letter, Luncheon noted that Article 117 (1) of the Constitution states, "There shall be a Secretary to the Cabinet whose office shall be a public office."
Further, he noted that the Defence Act also makes provision for the Secretary to the Defence Board to also be a public officer.
As a result, Luncheon said President David Granger may be called upon to explain the "apparent breach" of the constitution, in light of Harmon also being a minister and parliamentarian.
Under the PPP/C, Luncheon would regularly resign during the run up to general elections in order to go out on the campaign trail without violating public service rules. Towards the end of the PPP/C's time in office, some Permanent Secretaries ventured out on the campaign trail without resigning, thereby drawing criticism.
Around the Web