A police rank was yesterday granted self-bail after he denied allowing the escape of Melvor Jeffrey, the Agricola teenager who reportedly had been shot by police in Agricola during an operation
It is alleged that Jermaine Joseph, 20, of West Coast Berbice, on July 19, at the Georgetown Public Hospital Corporation (GHPC), being employed with the Guyana Police Force which had lawful custody of  Jeffrey, through negligence or carelessness, allowed Jeffrey to escape from lawful custody.
Joseph, who is assigned to the Tactical Services Unit pleaded not guilty to the charge read to him by Magistrate Leron Daly.
According to the attorney of the accused, his client is not a flight risk. The attorney then requested that his client be released on his own recognisance. This request was granted by the Magistrate after Police Prosecutor Sanj Singh made no objection to bail being granted.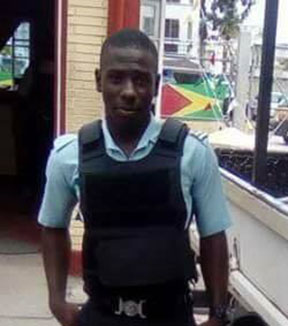 Joseph is expected to make his next court appearance before Magistrate Judy Latchman on October 30.
Jeffrey, a mason, was in custody following a police operation in Agricola, on July 11.
He was shot several times, allegedly by the police, during the operation and was taken to the GPHC where he remained a patient until his escape around 2:00 am on July 19. It was previously reported that the youth had escaped from the hospital after noticing that the policeman assigned to guard him was not at his post.
Jeffry was recaptured on July 23, after he was found hiding in a barrel at Agricola, East Bank Demerara. He was later read five robbery charges by a city magistrate.
Around the Web