Owner of the Miss Guyana Universe franchise Jyoti Hardat is refuting claims that she ran a rigged contest in August, in New York, in favour of crowned Queen Rafieya Husain.
While Hardat focuses on preparing the new queen for the November 26th Miss Universe pageant to be held in Las Vegas, there is still lingering contention among some of the contestants of the preliminary leg who complained bitterly on a major US television network and social media, as well as three pageant volunteers who have made allegations on social media.
Chief among the complaints which were lodged on a newscast of the New York television station, WPIX (Pix11), an affiliate of the CW Television Network, and social media, mainly Facebook, is the fact that Husain was a finalist in the Miss Guyana Universe last year, and according to the contestants' interpretation of the contract they were asked to sign, she should have been excluded. Some of the contestants also claimed that they did not receive their money's worth from the US$2,500 registration fee that they were required to pay.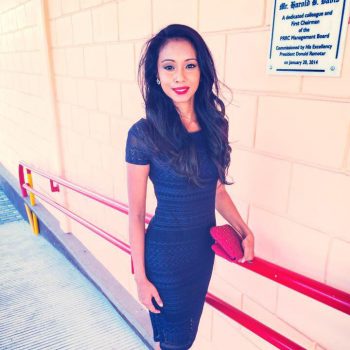 According to the contract signed by the contestants, they could not have been "…a contestant or delegate in a previous Miss Universe Pageant. I am not the current title holder or first runner-up in any other (emphasis added) national pageant or competition." The participants are of the opinion that these clauses should have excluded Husain as an entrant in the pageant.
However, Hardat, herself a former contestant in the Miss Guyana Universe contest in 2014 before becoming the franchise holder, pointed out that Husain was never a previous Miss Universe contestant, but rather a Miss Universe Guyana contestant and was therefore still eligible.
"This is the major distinction, as one represents a delegate competing internationally vs nationally. A delegate who competed for Miss Universe cannot compete again. A delegate in a local national preliminary/national pageant for their country can compete as many times as they wish until they win," Hardat said in a statement, in answer to questions posed to her by Stabroek News.
She pointed to a statement issued to the television newscast by the Miss Universe Organisation in which it stated, "Contestants who do not win a national title in their country are allowed to participate in consecutive and future years."
Additionally, she said the Miss Universe Organisation confirmed the results with the judges and an independent auditor who tabulated and verified the scores during the competition.
Apart from being a former contestant in the pageant, Husain was also Guyana's representative at the 2014 Miss World pageant held in London, England, where she became the first Guyanese since Nalini Moonsar, in 1971, to finish as a top 10 finalist.
As to the claim by some contestants that they did not receive their money's worth for the US$2,500 entry fee, Hardat said that not all participants were able to pay the entire fee; in fact, only three of the fourteen entrants paid in full, she said.
According to Hardat, the pageant ran at a loss, while some contestants, who did not turn in monies for tickets they were required to sell, made a profit from the GoFundMe pages they set up to assist with their preparations.
It was decided to accept all contestants in the pageant regardless of whether they paid the entire fee, as it was "felt to be the most inclusive option, as it allowed contestants who didn't pay their entrance fees to still gain valuable experience and exposure since they had already come this far."
"These contestants know who they are, and the Miss Universe Organisation [has] their names should validation be needed. Although we have been slandered by some of them, we still maintained confidentiality to protect the identity of these young ladies," Hardat said.
In response to claims that some of the food and make-up artistry were sponsored, even though the registration fee was supposed to cover same, Hardat admitted same, while noting that this is referred to as "in kind sponsorship."
She further reiterated that the participation fee was not paid in full by most of the contestants, but they were still allowed to take part in the pageant.
"As an organisation dedicated to empowering women, however, amenities were made available for all participants. At no time, however, was anyone without the availability of food, or other amenities, or in any way put at risk," the organiser said.
As to the volunteers who resigned after the pageant, Hardat, in thanking them for their services, said while she recognises that some of them may have had favourite contestants, it is ultimately the judges and not the volunteers who decide who is crowned. She said that the voting of the judges was very clear and was verified by a third party auditor "whose credentials place him with one of the largest auditing firms in the world."
"At no time was any unauthorised persons allowed to tally any of our scores, as previously stated by one of the departed volunteers before he deleted it. It may be personally disappointing when your favourite doesn't win, but we'd urge all our volunteers not to let their personal preferences cloud the judges' results," Hardat stated.
The 28-year-old Hardat lost her sister Guiatree Hardat to domestic violence when she was murdered by her 38-year-old, Guyana-born, ex-fiancé – a policeman – in New York in 2007.
She said this tragedy propelled her to join the fight to spread awareness and to educate others about domestic violence.
A small business owner, she said that she has used the pageant arena to expand her reach to focusing on women, particularly in Guyana, and after becoming the new National Director of Miss Universe Guyana she started to slowly mold the pageant into more of a scholarship programme.
"I have since formed a partnership with an all-women's university here in the USA, to allow our participants who wish to further their education, access to scholarship funds up to $23,000 per year for four years, as one of the benefits of using our platform to further their growth, personally and professionally. I have also been able to convince the New York Performing Arts Academy to grant more scholarships than they had initially promised, towards our programme's participants. My goal is to eventually expand this scholarship program to cover all women who have been a contributing member to society – with a larger variety of scholarships and grants," Hardat said.
Around the Web