Hailing AMCAR's heart of palm operations, President David Granger yesterday urged farming communities and investors to adopt a model that not only promotes agro-processing but also builds a solid partnership with citizens.
Speaking at AMCAR's 30th Anniversary event at Drum Hill Landing on the Barima River, Region One, Granger said that it is this form of economic activity, which has the potential to transform and empower hinterland communities.
According to a release from the Ministry of the Presidency, he said "We have to move the economy of the Barima-Waini (from) the level of the corial, so farmers do not have to depend on a subsistence existence, but they can penetrate a regular and reliable market to take their produce at reasonable prices. Regularity, reliability and reasonableness will transform the farming communities of their Region".
Granger said that the 'AMCAR model', is a most appropriate vehicle for the country to move its production up the value chain. AMCAR, a French-owned company  bottles organic hearts of palm.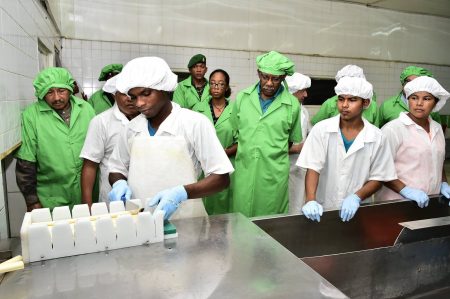 "This company has begotten a 'model', which has transformed a previously overlooked commodity into a competitive, industrial product, and a remote area into an agro-processing centre. This 'model' emphasises the importance of hygiene, of marketing, of quality assurance, of phytosanitary and sanitary standards and of due regularity…This industry's strict adherence to these standards and the certification of its products has allowed local products access to European supermarkets and restaurants," the President said.
AMCAR's Managing Director, Christophe Sureau, who along with his brother, took the helm of the company some eight years ago, said that they continue to operate in keeping the original mandate of its founder, Pierre Saint-Arroman; that is, to produce value-added, organic products while contributing to the sustainable development of communities, the release said. The late Saint-Arroman who moved to Guyana in 1983, served as the Honorary Consul for France to Guyana from August 12, 1991 to August 22, 2015. The release said that the company today has about 180 employees at its Drum Hill and Berbice factories and at its facility in Georgetown. AMCAR also employs about 500 hearts of palm harvesters.
Currently, the Drum Hill facility produces about 500-600 bottles of hearts of palm per day.
At yesterday's ceremony, the release said that a plaque, which was fashioned by the company to honour the memory of Saint-Arroman, was unveiled by Granger and Saint-Arroman's widow Yola Saint-Arroman.
Around the Web