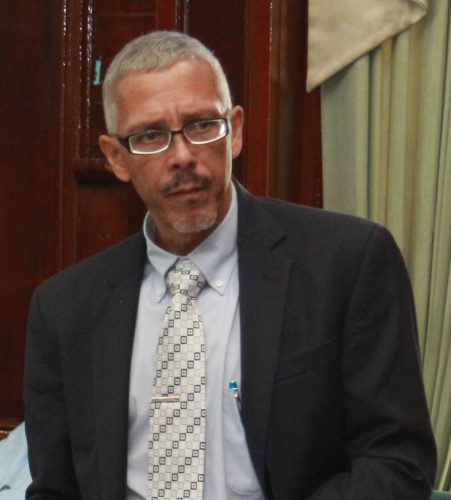 Minister of Business Dominic Gaskin agrees with the Private Sector Commission's (PSC) condemnation of the Guyana Power and Light Company's (GPL) management which it says seems to hold no solution to a reliable power supply.
"I agree with the private sector in raising the issues they have raised. They have a right to expect a reliable electricity supply and really after a while you just don't want to hear any more excuses," Gaskin told Stabroek News yesterday.
"I am sure there are probably valid explanations why what is happening (is happening) but after 50 years of independence we can't keep making excuses. We have to take responsibility for ensuring there is a reliable supply of energy," he added.
Following continuing countrywide power outages over recent months, the PSC on Friday issued a searing attack on GPL, saying that the utility company doesn't have the management or capacity to deliver reliable power to the public.
"The majority of our citizens are also not blessed with private generators to provide alternative power to save the food they have stored in the freezers and refrigerators," the PSC statement said.
"Judging from this performance or, to be more accurate, absence of performance, GPL simply have neither the management nor the capacity to deliver a reliable power supply to the country and the government has consistently failed to address this reality," it added.
To date, neither officials of the company, including Chairman Robert Badal, nor Minister responsible for the sector, David Patterson, has said anything about the PSC's concerns. Their silence comes even as customers nationwide continue to take to social media and other forums to air their concerns about the brittle electricity supply they have been receiving.
PSC Chairman Eddie Boyer told this newspaper that the statement was released due to concerns the organisation has, especially with the Christmas season near and given that consumption increases during that period. He said the PSC wants to know what assurances will be given. "With Christmas coming what assurances do we have from GPL, given their performance over the recent months?" the PSC Chairman asked.
GPL, which is owned and operated by the government, provides the majority of the country's power supply. However, within recent months, the nation had been subjected "to a series of unannounced and frequently prolonged power outages," the PSC statement noted.
The Minister of Business told Stabroek News yesterday that he too was concerned about the spate of power outages and its effects on the business sector which he has responsibility for.
"I am very concerned. As a business person you have a right to expect a reliable supply of electricity. I mean we can speak of affordability there is not a lot you can do with that until we improve efficiencies in the system and move to a different source … in terms of renewables. In terms of having a reliable supply of energy, I think by now we should have had that in Guyana and as a business person it is extremely frustrating, especially if you are producing and are in manufacturing," Gaskin posited.
"You know that your counterparts in other parts of the world don't have to buy a generator, don't have to invest in that and so certainly don't have to have the constant disruptions. Those are our competitors. If you are manufacturing anything and you want to export …you must be able to create the same environment they, your competitors have. If it is costing us more to produce then we are giving away any sort of comparative advantage we may have and that does not rest well with me," he stressed.
But while he lamented the sloth of GPL on ensuring a reliable power supply here, Gaskin said that he was aware that government was working with the utility company to build capacity and to improve efficiencies in the system.
Yield
"Government is working with GPL, that I know. This is work that is not going to yield results overnight, because this government did not inherit a well-oiled system and therefore we have a lot of remedial work to do. A lot of money has been invested in GPL and a lot of work is being done and plans made but we still have problems and it is not good. It is just as simple as that."
As Minister of Business, he said that his ministry has taken a proactive approach and has reached out to the private sector, as part of its 'Doing Business Reform Action Plan', to have engagement with GPL which they hope will yield results and not just amount to perennial chatter.
He explained, "What we are doing, as part of our doing business reform and action plan, is include some engagement with GPL. We have had intermittent engagements with them but merely the fact finding kind- what are the processes that it takes to apply for an electricity service and those kinds of things- but we haven't really gotten into their technical operations or anything like that. I think we need to extend our engagement with them into those areas. We have made a proposal to the private sector on a public- private dialogue body and they have in principle agreed to it and we have to move it forward. So the ball is in the Ministry of Business's court. It is through that mechanism that we hope to tackle issues like GPL, electricity and so on. I think those are issues that can benefit a lot from the public /private dialogue mechanism, where there is direct contact with decision makers in that sector and the assignment of technical people."
Further, he added, "I think that is the direction we are taking on the GPL issue. It is not just our pointing out that there is a problem, because I think we all understand that there is a problem, it is about us discussing how this affects our economy and the cost. What does it cost businesses, what impact on the economy? Those are the sides of discussions we also need to have. It is not just about the inconvenience of having blackouts but that there is a cost and that it affects our economy and we need to tackle it from that perspective".
Interaction
Gaskin said that the business reform action plan has an area dedicated to interaction with GPL and the providing of technical assistance.
"Knowing what we do, we have a doing business reform action plan and GPL is included in it. But we are tackling it through the public-private dialogue because it involves too many stakeholders and there needs to be a consistent understanding of what the problems are. We need to have to have less rhetoric and more action.
"We have a plan by treating this matter through private-public dialogue as I said. We have put to cabinet that process. About a year ago we were supposed to consult the PSC and we did and we have only gotten recently to a point where the PSC has said they were fully supportive of that model that we had proposed. We have to take it back to cabinet and the ball has now been in my court for the last six weeks or so. That is my preferred way. Since I am not responsible for the sector, I prefer the ministry sets up a mechanism that allows the PSC access to the various ministers responsible for sectors but within a structured dialogue mechanism so that it is not just a meeting and gaff and a one-off chat. That there be supporting structures for this dialogue, that will move it forward, that will bring technical persons into the picture at the appropriate time so it keeps advancing . Once an issue is placed on the agenda, it keeps advancing because that is how the model is structured and I think is more effective. It takes a little time to set up because we need a secretariat that is going to do the work in between meetings, so we are looking for funding for that," he added.
The Ministry of Business has already applied to the Caribbean Export Development Agency (Carib Export) for funding for that as a project and is currently awaiting a response, which it hopes will be positive.
Gaskin said that if funding was received the ministry would be able to support its proposed dialogue body much better.
But for now he called on stakeholders to quit the "tit for tat about whose problem it is" and for the government to communicate to the public what they are doing and what are long and short term goals.
"Government needs to take some decisions and perhaps make some commitment to the private sector and the public in general regarding GPL. I think we have enough information to be able to give the public a reliable estimation as to what this system is going through, what GPL's performance will be like next year or the year after. There is enough information for us to be able to share with the public projections that are reliable that people can actually say and believe 'this is where GPL is going this is going to be the level of blackouts next year and so forth. We need to start measuring these things and set some targets. We can say, for example, 'We have had 100 blackouts this year or accumulated 1000 hours we need a reduction next year'. The people don't want it to be the same next year so let us set some realistic targets are and tell the public what those target are," Gaskin said .
Around the Web