The three suspects, including two police constables who were deemed "persons of interest" in the death of school teacher Kescia Branche have been released from police custody.
Acting Crime Chief Paul Williams yesterday made this disclosure, two days after he had expressed the force's confidence in solving the case this week.
Williams confirmed with Stabroek News that the three suspects: Branche's ex-partner and the two on-duty police constables who had picked up Branche from the Blue Martini nightclub on Lamaha Street in Newtown have been released from police custody.
He said the ex-partner of Branche was on Tuesday placed on station bail while the two constables were placed on open arrest after their detention period expired.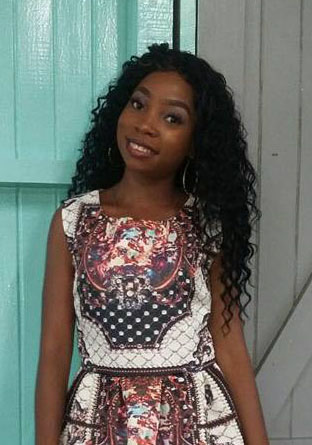 When questioned as to whether the two constables remain on duty, Williams confirmed this and stated that they have been reassigned. "…when ranks conduct these breaches what we would usually do is send them to another location until the investigation is completed", he said.
This newspaper understands that the two constables are operating out of the force's Tactical Services Unit (TSU).
Sources say investigators appear to be unsure as to where they are now heading with the probe though there had appeared to be abundant evidence and witnesses.
Branche's ex-partner was taken into custody last Thursday afternoon. He reportedly had her cell phone in his possession.
A car, PMM 242, was also impounded but investigators are yet to apprehend the owner, who is suspected to have played a major role in Branche's death. This newspaper was previously told that the owner of the car fled the country the day after Branche's body was discovered.
Since the investigation was launched into the matter, the probe took several twists.  A number of leads were also being followed. Among them was the possibility of Branche jumping out of the moving car or having been pushed out of it following an attack.
The police have also refused to divulge whether they had obtained any incriminating surveillance footage.
On Monday, Williams had expressed his confidence in the force solving the crime noting that they have been getting much public support.
He had also stated that over the weekend some intense work was done in the matter.   "…Over the weekend, myself and team, we have done some intense work and we are getting very good information and I am asking the parents of Branche, members of the public, relatives and friends, just bear with us, give us some time and definitely the Guyana Police Force will solve that crime," he had said.
"In the line of questioning and in the line of my training and experience, I am seeing the type of information that I want forthcoming and they are authentic," he added.
Branche, 22, a mother of one and a teacher at Richard Ishmael Secondary School, was found next to a coconut tree on November 5 along Cemetery Road from Louisa Row, Georgetown, obliquely opposite the cemetery office, sometime around 5 am. She succumbed to her injuries on November 7th in the Intensive Care Unit of the Georgetown Public Hospital.
She had sustained head injuries and a broken foot. The doctor who treated her told her family that the head injuries appeared to be consistent with blows to the head.
Branche was seen leaving the Blue Martini nightclub on Upper Lamaha Street in Newtown, last Saturday night in the company of the two on-duty constables. After leaving the nightclub, the trio had ventured to a barbeque spot on Mandela Avenue.
While waiting on their order, one of the constables reportedly told investigators that he left to use the washroom and when he returned he did not see Branche. When he asked his colleague, who had remained with her, about her whereabouts, he was told that she had left with a taxi.
A post-mortem examination revealed that she died as a result of brain haemorrhaging and blunt trauma to the brain.
A male who was allegedly seen touching Branche inappropriately in the nightclub and another who was accused of last being in contact with her based on phone records were detained for questioning but were also released.
Branche is scheduled to be laid to rest on Saturday.
Around the Web