A sales clerk is currently hospitalized after she was severely chopped on Sunday night for constantly refusing advances made towards her by her attacker.
Injured is Narinie Gopaul also known as 'Sangeeta', 23 of Meten-Meer-Zorg, West Coast Demerara (WCD).
During the attack which occurred around 11pm, Gopaul sustained chop wounds to her arms, foot and neck and two of her fingers were severed.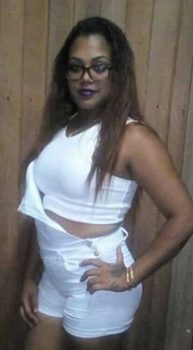 She was rushed to the Leonora Cottage Hospital and was later transferred to the Georgetown Public Hospital (GPH) where she remained a patient up to yesterday afternoon. Her condition is listed as stable.
She has since undergone surgery and has received over twenty stitches to her wounds.
Divisional Commander Leslie James yesterday confirmed with Stabroek News that the suspect, a 58-year-old resident of Ocean Garden, Meter-Meer-Zorg, WCD, had been apprehended the said evening and is presently in police custody assisting with investigations. He is likely to be charged soon.
Reports reaching this newspaper revealed that Gopaul had just returned from work and was entering her yard when she was attacked by the suspect, who was armed with a cutlass.
Following the incident, an alarm was raised and the suspect fled the scene by scaling a fence. The police were contacted and he was subsequently arrested.
The police in a statement yesterday said that the duo previously shared a relationship.
The suspect, this newspaper learnt had consistently made advances towards Gopaul but she paid him no mind. In the past, he reportedly showed up at her workplace and even visited a family shop to meet her but she always avoided him or refused to speak with him.
Around the Web