The Guyana Sugar Corporation (GuySuCo) has issued termination letters to over 2,000 workers at the Skeldon Estate as it moves ahead with plans to consolidate its operations.
The issuance of the redundancy letters, which began on Monday, follows on the heels of the similar notice given to Rose Hall Estate workers a week ago, which State Minister Joseph Harmon yesterday said Cabinet was not aware of prior to press reports.
A source at the Skeldon Estate told Stabroek News last evening that on Monday some 1,700 workers, mostly junior staff, were given redundancy letters, while yesterday others, including supervisors and clerks, received theirs.
The source noted that it is expected that more persons will receive letters today.
When contacted, Chief Executive Officer of GuySuCo Errol Hanoman told Stabroek News that he could not give definite figures and preferred to wait until today, when the corporation would have accurate data at its disposal, which would be readily provided.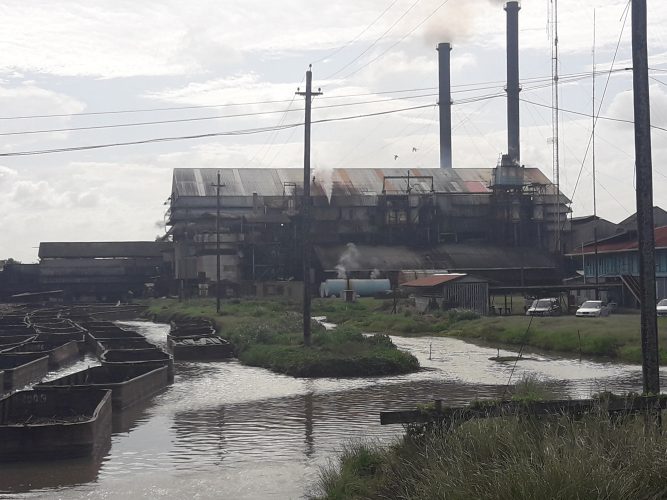 According to the 'Junior Staff Redundancy Notification' letter, which was seen by Stabroek News, the workers will be made officially redundant on December 29, which will be their last working day.
The letter sent on Monday starts by referencing a meeting that was held on November 20 at the Skeldon Estate Training Building between the workers and representatives from their union, the National Association of Agricultural, Commercial and Industrial Employees (NAACIE), where they were informed of the company's decision with regard to their employment at the estate.
"The Corporation has given consideration to the option of you continuing in a similar job within the organization. However, there is no suitable vacancy to accommodate you," the letter stated.
It added that as a result, the corporation can no longer provide the employees with regular employment at the estate and therefore, in accordance with Section 12, subsection (2) (a), (b) and (c) of the Termination of Employment and Severance Pay Act 1997, "the corporation wishes to inform you that your job is being made redundant."
According to the letter, the notice will expire on December 29.
Workers at Skeldon Estate last evening told Stabroek News that they are worried about the future.
Government had announced in May of  this year, when a 'State Paper on the Future of the Sugar Industry' was tabled in the National Assembly,  that it plans to scale back sugar production to some 147,000 tonnes per year, keep only three estates  and divest the company's remaining assets.
GuySuCo, under the plan, aims to produce the 147,000 tonnes of sugar annually from the Albion-Rose Hall, Blairmont and Uitvlugt-Wales estates, Minister of Agriculture Noel Holder had said then, as he informed that the determined production amount was decided upon as to satisfy local demand while simultaneously keeping international commitments.
Under the planned amalgamation of existing estates, cane from Wales would be reassigned to the Uitvlugt factory. The Wales Estate was closed at the end of the crop in December, 2016 and hundreds of workers have been laid off. Also, cultivation at the Albion and Rose Hall estates would be merged, but the Rose Hall factory would be closed at the end of this year.
Already some 400 workers of the Rose Hall Estate were given letters of redundancy.
In addition to those numbers, this newspaper understands that more than 250 workers are expected to be made redundant by December 9 at the Enmore Estate as the sugar company continues to scale down its operations.
Altogether, approximately 7,000 persons are expected to be laid off to facilitate GuySuCo's restructuring.
'Surprised'
But while GuySuCo moves ahead with plans to lay off workers by the end of this year, Harmon said that the decision was not discussed at Cabinet and all but Holder were "surprised" by the move.
Harmon yesterday said that such a major decision should have at least been discussed with the other APNU+AFC Cabinet members so as to plan accordingly. "We believe that at least some kind of notification ought to have been given…," he told the press on the sidelines of the ongoing budget debate in the National Assembly.
He added that while he was aware that GuySuCo would take the current course of action, the manner in which it has proceeded came as a surprise. "I believe that having regard to several initiatives that have been taken—the Special Purpose Unit [SPU] has said that it is having some very good responses to their offers—that one would have thought that they could have at least [done] things differently. This is my concern—that they have basically come out like a surprise to us," he said.
Nevertheless, Holder was adamant yesterday that nothing is wrong with sending the workers home since the White Paper presented to the National Assembly had indicated that workers would be laid off, even as he pointed out that there is no work for the workers to do at the estates.
"The question is: What happens after January the 1st? From the GuySuCo standpoint, there is no cane in the ground. There is no way you can continue the operations of the factory because the cane has been finished from the crop. So, GuySuCo is duty-bound to do what they have to do," Holder said when questioned on the matter.
When asked if he supported the decision to issue the letters, Holder would only say, "It comes back to what happens after the 31st of December. GuySuCo has no employment for them."
He added that while there is the SPU, which is responsible for spearheading the divestment and privatisation of certain GuySuCo assets, its views are financial and not agriculturally-oriented. "A Special Purpose Unit might have other ideas but a Special Purpose Unit does not fall under agriculture, it falls under [the Ministry of] Finance. It is a part of NICIL and they aren't the ones that have to make the decision," he noted.
Hanoman added that Holder speaks for GuySuCo and had been made aware of all plans and decisions taken.
"I would rather you speak with Minister Holder, who is the Minister of Agriculture and to whom GuySuCo's Board and Chairman reports to," Hanoman said when asked why Cabinet was not informed.
'Some notification'
Harmon made clear that when he speaks of the element of surprise and being informed beforehand, he was limiting it to a Cabinet and not government. "When you say government, I can say specifically the Cabinet, because government is also the Ministry of Agriculture. So, I cannot basically say that government has not been informed about it. But because  of the nature of this matter, that is something [that] at least could have come to the Cabinet, giving us some notification before time, so at least you know that if in fact the action had to be taken, that they could make it softer and cushion[it]," he explained.
Harmon pointed out that Cabinet has not discussed the matter and while he would not want to "prejudge" what its actions will be, he was confident that once the matter comes before it, it will discuss and "come up with a decision."
He informed that he personally only learned of the redundancy in his reading of the local newspapers and was taken aback.
"Just like the citizens of this country, I read of it in the newspaper and I myself was a bit surprised that a major decision like that would not have come to Cabinet," Harmon stated.
He said that given that it has played a major role in assisting the sugar corporation financially over the many years and because Cabinet has to plan strategically, it should have been at least been informed that the workers would be laid off.
"The [Cabinet], because of its responsibility to always provide bailouts for [GuySuCo], and the fact that we have a bigger responsibility for ensuring that there is stability in the nation and that the people of this country, [and] that workers, in particular, are treated fairly, we believe that at least some prior notification ought to have been given of this letter that was sent out to these workers," he said.
He reminded that he had only recently said that government did not foresee the estates closing before December 31st of this year and had planned to look at the issue in 2018.
"I said that we would look at this matter in 2018 and that the decision to close the estates would not have taken place in December of 2017 and that it would go over to 2018," he stressed.
Around the Web