President David Granger this morning said that he is responsible for the US$18M ExxonMobil signing bonus being put into an escrow account at the Bank of Guyana, a decision he believes was necessary at the time so that Guyana could be prepared for a National Security Emergency.
"The transaction was conducted in that manner because there were some national security implications that was the only reason it was transacted in that manner and I am responsible for national security and it is my decision," Granger said in answer at State House to questions posed by Stabroek News on the signing bonus.
"I am the head of government, I am responsible and I am aware of it. It is a legitimate government of Guyana exercise and I am aware that it is in the Bank of Guyana in escrow. Once it is an escrow account it means that it cannot be used for purposes for which it was not intended. So as far as I am concerned, it is a legitimate Government of Guyana practice and the money has not been dishonestly acquired and will not be used for purposes for which it was not intended," he also said.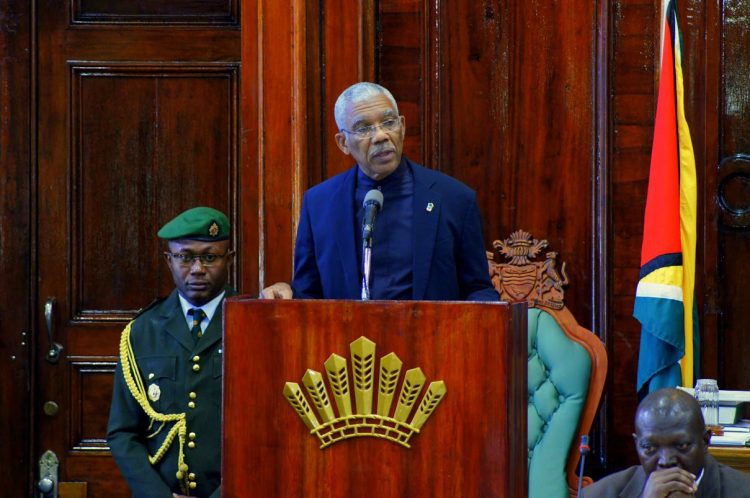 After months of silence on if a bonus was paid, the government admitted it only on Friday last following a report published by Stabroek News confirming a request for the setting up of an account at the Bank of Guyana (BoG) for the funds from the signing bonus.
On the same day of the publication, Natural Resources Minister Raphael Trotman admitted to the National Assembly that government received the signing bonus, which he had for months refused to confirm.
Trotman, who did not disclose the value of the signing bonus, also claimed that the publication of the letter appeared to be organised to cause embarrassment to the government. He said the bonus was intended to be used for legal fees pertaining to the preservation of Guyana's territorial integrity in the potential court case stemming from its border controversy with Venezuela.
He also echoed Minister of State Joseph Harmon, who had two weeks ago announced, when asked by this newspaper for an update, that the contract and its antecedents would be made public by the end of this month.
Stabroek News was reliably informed that it would be made public this week
On Sunday, ExxonMobil confirmed that a signing bonus of US$18 million was paid over last year.
Granger said today that at that time government felt it was best to not make public that the monies were paid because of national security issues.
"It is a legitimate exercise as I said to be used for certain matters which we perceive to be of national security interest. At that point and time it was the thing to do and we can have access in the event of a national security emergency," he stated.
"If I can put it this way, it is not a question of secrecy. Evidence of non-disclosure does not mean there is evidence of any intention of deception. There is no intention to deceive but there was no need to make it public. It was a governmental decision, I make governmental decisions all the time. It was not deceptive. The transaction was conducted on government letter head paper between two state agencies, the Bank of Guyana and the Ministry of Finance it is not a secret," he added.
Asked why there were denials by ministers when asked about the bonus he said that he was not sure that all ministers knew of it.
"I am not sure that all of the ministers were aware of the transaction," he replied.
Questioned further if the Minister of Finance, the holder of government's purse was not aware, the President would only say, "I know the transaction was conducted through the head of what used to be the secretary of the treasury; the finance secretary. But as I pointed out, it is a government paper, it is between the Bank of Guyana, it is a legitimate transaction and I am responsible for everything surrounding that transaction," he added.
Around the Web