The New Amsterdam Blood Bank has gathered 1,325 units of blood thus far for the year 2017.
A release from the Department of Public Information said that with numerous outreaches and blood drives throughout the region, the Blood Bank was able to exceed its target of 1,200 units (assigned by the Berbice Regional Health Services) by 125 units.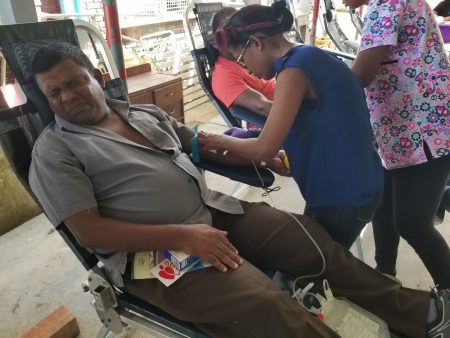 Adding to this year's count was the Skeldon Public Hospital which held its final blood drive for the year on December 15. Blood pressure and sugar testing were also undertaken as part of the exercise. According to the Doctor-in-Charge of the Skeldon Hospital and District Medical Officer Dr Ryan Campbell, this blood drive was the largest held at the hospital for this year.
Campbell said that donating blood every three months is beneficial to an individual's health.
Director of Regional Health Services, Jevaughn Stephen, after donating, remarked that the process was relatively short, simple and easy.  A frequent donor, Stephen said he felt good about being able to help save lives, according to the release.
The Region Six, Blood Donor Organiser, Candy Archer explained that the needs of Region Six fall in the range of 300 to 400 units of blood yearly, so the remainder of the blood garnered through blood drives is dispatched to the National Blood Bank.
Around the Web