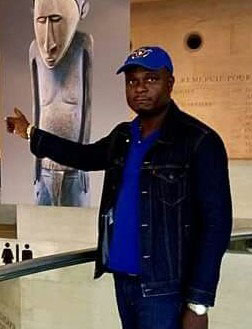 A 42-year-old French Guiana-based Guyanese was murdered by bandits during what appeared to be  a robbery yesterday morning at Craig, East Bank Demerara and the police have since arrested one of three suspects.
Dead is Purcell Moore Jr, a clothes vendor of Cayenne, French Guiana.
Moore is suspected to have been shot at least three times; once in his abdomen and twice in his head. He was rushed to the Diamond Hospital where he was pronounced dead on arrival.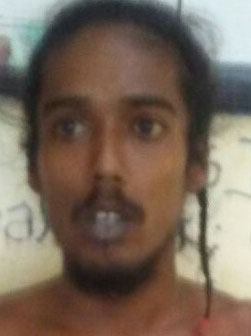 The incident took place around 7am yesterday at Old Road Craig in the vicinity of the 'short cut'.
Stabroek News understands that Moore arrived in Guyana about two weeks ago to spend the holidays with his parents and other relatives.
Reports revealed that he was returning to his parents' Lot 28 First Street, Craig, EBD house when he was attacked by three suspects, who attempted to relieve him of the gold jewellery he was wearing.
During the process, Moore reportedly scuffled with the bandits and was shot. He subsequently collapsed and the men fled the scene.
Crime Chief (ag) Paul Williams yesterday told reporters that so far the motive appeared to be an attempted robbery. "…and what I learnt from a relative of the deceased, he (Moore)…put up resistance that is why he was shot" Williams said.
One of the suspects, who has been identified as Kelvin Persaud, 21 of Fourteenth Avenue, Diamond, EBD was apprehended around 2 pm yesterday and is currently assisting with investigations.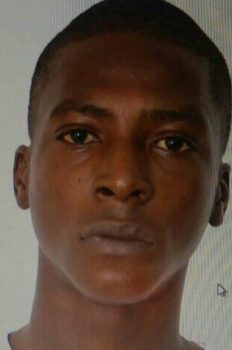 Another man, whose name was given as Wayne Chester, 20, of Friendship, EBD, is being sought by the police for questioning.
The identity of the third individual remained unknown up to last evening.
The police, in a press release, said initial investigations have revealed that Moore was on his way home when he was confronted by the suspects, one of whom was armed with a handgun.
"An argument reportedly erupted between the victim (Moore) and the suspects and it escalated into a scuffle, during which the armed suspect allegedly discharged several rounds at the victim," the statement explained.
A gold chain he was wearing was found at the scene.
At the dead man parents' house, relatives gathered in their numbers.
His father Purcell Moore recalled Moore's last words to him at the hospital. "He called my name and told me 'daddy I won't mek it'", the father recounted.
Purcell died in the hands of his mother, Gloria Moore.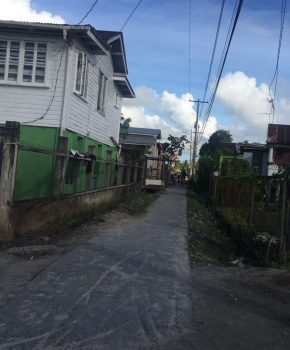 The grieving Gloria told this newspaper that she last saw her son on Tuesday evening when he bought her something to eat.  "He (Moore) went out on the road last night (Tuesday night) and he came home back to bring something for me to eat and went out back," she said.
Moore reportedly did not sleep home on Tuesday evening, and his mother said that he did not inform her as to where he was going or with whom. "It got to be he was coming home, yes because he was to do something for me this morning (yesterday)," Gloria said.
The woman said that she was packing up some clothes up when someone came to her house and told her that Moore had been shot.
As a result, she said she rushed to the scene where Moore had already been placed in a car to be transported to the hospital. "I see he in the car and I tell them wait I will go with he. So I put he in my hands to lay down and on our way to the hospital he run my back then I feel he hand fall and he died", the weeping Gloria related.
When Stabroek News visited the scene, detectives were present in the area taking statements from residents.
Residents in the area recalled hearing the sounds of gunshots. One resident, who operates a business said when he arrived in the area this morning he was greeted with the news, while another resident said that based on what he understands the men fled the scene on foot by running through Craig Old road.
Kim Moore, the dead man's sister said she was at work when she received a call informing her of her brother's death. "I was working and I decided to come out when my phone ring and that was it. I got the message that meh brother gone", Kim said as she broke down in tears and had to be consoled by relatives.
She said when she arrived at the hospital, blood was gushing out from the back of his head.
Meanwhile, one of Moore's nieces, said "I hear like four gunshots but I thought it wasn't from through this area, I thought was somewhere else", she said.
The niece said after receiving the news she rushed to the scene where she saw Moore's lifeless body. "I tried to lift him saying he would get up but he wasn't getting up", she cried.
Two spent shells of a small calibre weapon were recovered at the scene.
Moore lived in Cayenne with his wife and two children.
Around the Web