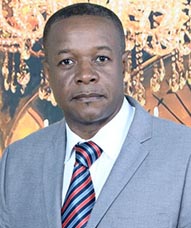 Chief Executive Officer (CEO) of the National Communications Network (NCN), Lennox Cornette, who tendered his resignation on Wednesday, has told Stabroek News that he is not aware that the board was dissatisfied with his performance.
Cornette, who has held the post since May 1, 2016 will have his last working day on January 12 after which he will proceed on two months of approved leave. His resignation therefore will take effect from March 15, 2018.
NCN Board Chair Enrico Woolford in confirming to Stabroek News that Cornette tendered his resignation also noted that the board has not been satisfied with his performance in the position.
Woolford would however not state the nature of the board's dissatisfaction or whether this dissatisfaction contributed to the CEO's decision to leave.
Cornette meanwhile noted that he had "delivered on every request" made of him and received no communication from the board that they were dissatisfied.
"Any dissatisfaction would've been communicated in writing. There would have been a performance assessment and I have received none. I have also received no such comment in the letter acknowledging my resignation and approving my leave," he told Stabroek News. 
Asked to share the factors which influenced his decision to resign Cornette said that there were many factors before stating that he would not identify all of them.
He noted instead that he was going on vacation on January 12 and had indicated that upon his return he would be relinquishing the position of CEO. Among the things he will be pursing after his return from vacation are Doctoral studies in Transformational Leadership at Bakke Graduate University.
According to Cornette while there were many challenges throughout his time at NCN he is most proud that the organisation's history of malfeasance was not reflected during his tenure.
 He stressed that Audit reports for 2016 were completed and nothing untoward was highlighted. Reminding that previous audits had found several instances of the network haemorrhaging monies and losing equipment, Cornette noted that none of that happened under his watch.
He noted also that under his stewardship NCN rolled out television broadcasts in places which have never before had access such as Lethem and Mahdia. Additionally, several radio stations were rolled out in 2017 and others including Aishalton, Moruca and Orealla are to be established in 2018. He explained that as CEO he placed greater emphasis on the Standard Operating Procedures and worked to develop efficient systems though he found the "public sector mentality" to be a hindrance to this goal.
Cornette's appointment to the position of NCN CEO caused concern in several sectors for various reasons including the manner in which he departed his post as Public Relations Officer of the Guyana Telephone and Telegraph Company (GTT).
Cornette, according to an email, had admitted that his forgery of the signature of then general manager, the late Terry Holder led to his exit from GTT.
Then chair of the NCN board Bishwa Panday had announced that Cornette emerged as the best candidate based on his diverse communication, financial and executive management background and noted that he possesses the qualifications and experience needed for the job.
His selection ahead of "veteran broadcasters" such as Woolford who had also applied for the post surprised many and led to board member and Director of Public Information Imran Khan resigning from his position on the board.
At the time Khan had indicated to the rest of the board that he was "gravely afraid of entrusting Cornette with the authority of CEO at NCN…in light of his admitting to what effectively constitutes fraud."
 He had further argued that Cornette was not the only candidate and that at least one other credible candidate [Woolford] does not have any similar blotch to his resume of which the board was aware.
Around the Web