(Trinidad Express) More than 24 hours after the passage of Tropical Storm Bret most of St Helena Village, located minutes away from the Piarco International Airport, remains under flood.
Reports coming out of St Helena are that scores of citizens are still marooned in their homes, while dozens have had to be rescued by first responders and Samaritans.
Some of the rescued included the elderly and children who were towed out of their flooded homes on rubber rafts.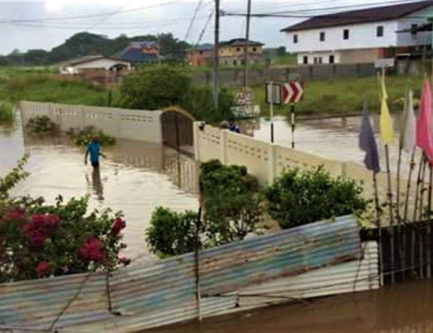 Flood waters have extended as far as St Augustine and Caroni in the vicinity of the Trantrill Road connector route, where run off into the swollen Caroni River and adjacent rice paddies contributed to some reduction in volume by noon Wednesday.
Estimated losses in St Helena have reached the millions, as horrified resident saw filthy flood water invading their homes Tuesday morning and reaching several feet high in some places.
While St Helena has a history of floods during the wet season, some residents said this week's disaster was the worst in decades following Bret's dumping of hours of rain on Monday night.
Prior to that, central had seen two days of almost steady rain, leaving the ground saturated and rivers swollen.
Debris in the rivers and drains as a result of the illegal dumping of trash may also have worsened the situation, residents said.
Speaking to the Express from their homes, some stranded citizens described Tuesday night as "hellish" but those were still able to find shelter in the higher parts of their homes were grateful.
Some were not so lucky, having had to evacuate their homes completely and face near total loss.
Shocking footage and photographs on social media yesterday showed some St Helena residents waist high in their own houses and yards, while some told tales of finding snakes hiding out in the nooks and crannies of their homes.
Around the Web