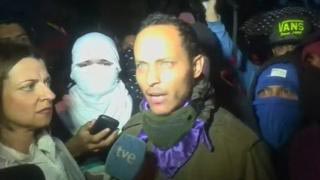 CARACAS, (Reuters) – A rogue Venezuelan police pilot wanted for lobbing grenades and shooting at government buildings appeared briefly at an opposition vigil on Thursday night in a surreal twist to the crisis-worn country's political drama.
Oscar Perez, 36, who also is an action film star who portrays himself as a James Bond-cum-Rambo figure on social media, surprised opposition supporters by popping up at a Caracas event to mark the deaths of about 100 people related to anti-government unrest that started in April. "We don't want any more blood on the streets," he said. Perez, flanked by young men clad in balaclavas and surrounded by cameras, said the opposition must continue protesting.
On Sunday, the opposition will hold an unofficial referendum to let Venezuelans have their say on Maduro's plan to rewrite the constitution.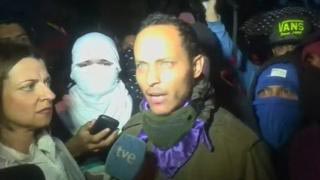 Two weeks ago, Perez hijacked a police helicopter flying over Caracas' center and fired shots at and lobbed grenades on the Interior Ministry and the Supreme Court to fight what he said was a tyrannical government.
Perez has appeared only once since that incident – in a video saying he was in Caracas and keeping up the fight against the government of unpopular President Nicolas Maduro, who has called Perez a terrorist.
Venezuela is undergoing a major crisis as hundreds of thousands of people have taken to the streets in recent months calling for an end to Maduro's presidency, amid food shortages, a collapsing currency and soaring inflation.
Perez's stunt shocked many in Venezuela, although some suggest it was a false flag operation by the government to distract from the crisis.
His Instagram feed shows him riding horseback in combat gear, scuba-diving with rifles and pistols and jumping out of a helicopter with a dog.
Perez produced and starred in a 2015 Venezuelan action movie called "Suspended Death" about the rescue of a kidnapped businessman, which includes scenes of him firing a rifle from a helicopter and emerging from water in scuba gear.
Comments
SAN JUAN, Puerto Rico (Reuters) – Puerto Rico's governor met with mayors from around the ravaged island on Saturday after surveying damage to an earthen dam in the northwestern part of the US territory that was threatening to collapse from flooding in the aftermath of Hurricane Maria.
DUBAI (Reuters) – Iran said on Saturday it had successfully tested a new ballistic missile with a range of 2,000 km (1,200 miles) and would keep developing its arsenal despite US pressure to stop.
(Trinidad Express) Former executive chairman of CL Financial Lawrence Duprey was ordered by a Florida judge in July to pay more than US$60 million to British American Insurance Company (BAICO) in damages in relation to the TT$1.9 billion Green Island project in Osceola County, Florida.

Residents working on their roof in badly damaged neighborhood are seen from a Marine Corps MV-22 Osprey surveying the aftermath from Hurricane Maria in St.
MEXICO CITY,  (Reuters) – Rescuers swarmed over rubble with shovels and picks yesterday in a frantic search for survivors two days after Mexico's deadliest earthquake in a generation, focusing on 10 collapsed buildings where people may still be alive.