WASHINGTON, (Reuters) – The Trump administration yesterday imposed sanctions on eight more Venezuelan officials, including the brother of late socialist leader Hugo Chavez, to punish them for helping President Nicolas Maduro to create a new legislative superbody, U.S. officials said.
The United States targeted individual politicians and security figures but stopped short of placing broader financial or "sectoral" sanctions on its vital oil industry – though such actions, the officials told Reuters, are still under consideration.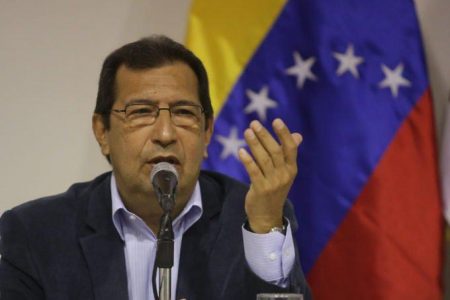 The new measures announced by the Treasury Department will freeze their U.S. assets, ban them from travel to the United States and prohibit Americans from doing business with them. Washington slapped sanctions on Maduro himself last week following similar action against 13 Venezuelan figures on July 26.
It marked a further escalation of the U.S. response to Maduro's crackdown on the opposition and the establishment last week of the new constituent assembly, an all-powerful body run by his Socialist Party loyalists and which has drawn international condemnation.
"President Maduro swore in this illegitimate Constituent Assembly to further entrench his dictatorship," U.S. Treasury Secretary Steven Mnuchin said in a statement. "This regime's disregard for the will of the Venezuelan people is unacceptable, and the United States will stand with them in opposition to tyranny."
Most prominent among those targeted on Wednesday was Adan Chavez, 64, a physicist and late President Hugo Chavez's elder brother. He is former culture minister, served for nearly a decade as governor of his home state of Barinas and is now secretary of the new assembly's presidential commission. Also facing sanctions was Bladimir Armas, a National Guard colonel accused by government critics of human rights abuses.
The latest measures were intended to make good on the Trump administration's threats to sanction anyone involved with the new assembly, which has the power to rewrite the country's constitution. All eight were accused of undermining democratic institutions.
President Donald Trump's administration is continuing to weigh possible sanctions against more senior figures, including Venezuelan Defense Minister Vladimir Padrino and Socialist Party No. 2 Diosdado Cabello, and they could be included in future sanctions packages if Maduro does not change course, the U.S. officials told Reuters.
But experts say individual sanctions, while providing symbolism, have had little or no impact on Maduro's policies and that broader oil-sector and financial sanctions – the toughest of possible measures – may be the only way to make the Venezuelan government feel economic pain.
Maduro regularly laughs off Washington's disapproval and blames the U.S. "empire" for Venezuela's economic woes. More than 125 people have been killed in unrest since a wave of street protests began in April.
The United States has held off on oil-related measures for now, mindful of the potential not only for deepening the suffering of the Venezuelan people but also the risk of causing problems for U.S. companies and consumers. It is also lacking strong regional support for steps such as a ban on imports of Venezuelan oil to the United States.
A senior administration official reiterated, however, that "all options are on the table."
"I support the president sanctioning these corrupt Maduro regime officials," said Republican U.S. Senator Marco Rubio, who has worked closely with Trump on the Venezuela issue.
But he added: "The time has now come for the president to act on his promise to impose significant economic sanctions on the illegitimate Maduro dictatorship."
Comments

WASHINGTON,  (Reuters) – The top U.S. and Canadian and trade officials yesterday accused each other of sabotaging efforts to renegotiate the North American Free Trade Agreement, even as they and Mexico agreed to extend talks into the first quarter of 2018.
(Trinidad Guardian) Even as two companies have been procured to commence clean-up operations after a massive oil spill in Chaguaramas on Saturday, the spill is said to be quickly spreading southeast in the Gulf-of-Paria, already reaching Cocorite.

(Trinidad Express) The State is soon to start legal action against former Government minister  Dr Roodal Moonilal over allegations of bid rigging with respect to some ten contracts through the Estate Management and Business Development Company (EMBD) in 2015.

(Trinidad Express) Three men who died on Sunday when their car plunged into a river near the New Cut Channel in Woodland, have been identified.
(Trinidad Express) The grandson of the elderly man found dead in a barrel at his home in Freeport on October 6, has been arrested and charged with the murder.