(Trinidad Express) Britain's Foreign and Commonwealth Office (FCO) on Friday updated its travel advisory on Trinidad and Tobago.
The advice went from "There is a general threat from terrorism" in T&T to "Terrorists are likely to try to carry out attacks in Trinidad & Tobago."
Acting Prime Minister and acting Head of the National Security Council Colm Imbert remained unresponsive to emails, calls and text messages on the topic yesterday. Prime Minister Dr Keith Rowley was in Barbados on a private trip for the weekend.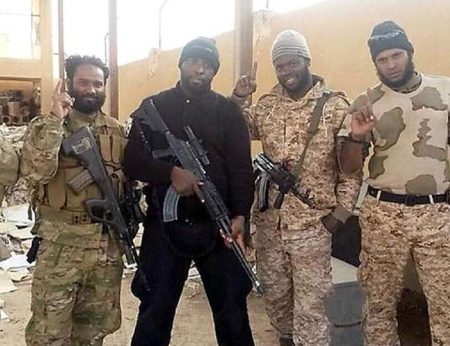 In full, the UK government's updated verbatim advice is now: "Terrorists are likely to try to carry out attacks in Trinidad & Tobago. Attacks could be indiscriminate, including in places visited by foreigners. Although there have been no recent attacks in Trinidad and Tobago, more than 100 Trinidad and Tobago nationals have travelled to Syria and Iraq to fight along with Daesh (formerly referred to as ISIL) and are likely to pose a security threat on return.
"There's also a threat from individuals who may have been inspired by terrorist groups, including Daesh and al Qaeda, to carry out so-called 'lone actor' attacks targeting public events or places. On January 30, 2017, the Ministry of National Security of Trinidad and Tobago confirmed that it works closely with international partners – especially the United States, Britain and Canada – in strategic areas such as intelligence and information sharing on people who are found to be associated with any terrorist group, whether locally or internationally.
"There's a heightened threat of terrorist attack globally against UK interests and British nationals, from groups or individuals motivated by the conflict in Iraq and Syria. You should be vigilant at this time. Find out more about the global threat from terrorism, how to minimise your risk and what to do in the event of a terrorist attack."
The August 11 update replaced what was in effect from March 1 to August 10, under the same 'terrorism' heading, which was: "There is a general threat from terrorism. Attacks could be indiscriminate, including in places visited by foreigners. There is considered to be a heightened threat of terrorist attack globally against UK interests and British nationals, from groups or individuals motivated by the conflict in Iraq and Syria. You should be vigilant at this time. Find out more about the global threat from terrorism, how to minimise your risk and what to do in the event of a terrorist attack."
The British also updated its section on Tobago. The March 1 advice on Tobago was: "Incidents of violent crime in Tobago are rare, but two German tourists were murdered in November 2014, on Minis-ter's Bay in the Bacolet area. A British national was murdered in the Riseland area of Tobago in October 2015." On August 11, it was updated to say only: "Incidents of violent crime in Tobago are rare."
Around the Web