The Governments and people of CARICOM are actively aiding Dominica following Monday night's devastating passage of Category 5 Hurricane Maria, the CARICOM Secretariat said yesterday.
A release from the Secretariat said that Antigua and Barbuda, though still in recovery mode from Irma's destructive passage over Barbuda, made an immediate pledge of US$300,000, to which Tourism Minister Asot Michael added a further US$100,000.  Antigua-Barbuda's state and private media, particularly ABS Radio and TV have been providing a vital link between Dominica's residents and the rest of the world, CARICOM added.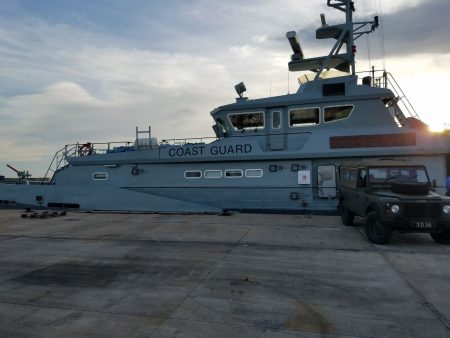 Barbados, the release said, was also quick to help, putting two coast guard vessels at Dominica's disposal to help carry technical personnel and supplies. Barbados has also arranged for doctors and nurses to assist with critical medical services.
The release added that Trinidad and Tobago's helicopter service provided critical support for transporting emergency personnel and assessment teams to remote villages to survey damage, evacuate the injured and stranded, and to deliver emergency supplies.  The Dominica Government, the release said, also welcomed contingents of police officers from Trinidad, Barbados, Grenada, Saint Lucia and Jamaica among others to help with security. Grenada announced that a detachment from its Special Services Unit has joined an earlier team of communication and logistics officers helping the CARICOM Disaster Relief Unit.  Jamaica also availed 120 members of its Defence Force Disaster Response Team.  Saint Lucia's police contingent was joined by fire and rescue officers as well as disaster assessment officials, the release added.
CARICOM noted that the Guyana Government donated the sum of US$100,000 to the Caribbean Disaster Emergency Management Agency (CDEMA), the lead CARICOM Institution coordinating the Region's response to the devastation. Georgetown also announced the shipment of food and medical and sanitary supplies and a further ten containers filled with building materials for the hurricane-affected islands.
The Secretariat said that St. Vincent and the Grenadines used a visiting Venezuelan military aircraft to airlift its donation of emergency supplies to Dominica.
CARICOM added that CDEMA continued its coordination though deployment of regional response teams including the Rapid Needs Assessment Team, the CARICOM Disaster and Assessment and Coordination Team, Search and Rescue, and the CARICOM Disaster Relief Unit.  A Team from the Caribbean Public Health Agency also addressed the water, sanitation and hygiene component of CDEMA's evaluation, the release added.
CDEMA's Executive Director Ronald Jackson, and CARICOM Secretary-General Irwin LaRocque have conducted first hand assessments of the damage and are providing on-location coordination. Executive Director of the Regional Security System, Captain Errington Shurland is also leading his organisation's work on the ground in Dominica, the release added.
Around the Web