(Jamaica Observer) Stanley Motta Ltd, subsidiary of the Musson Group, is investing US$30 million in an integrated Tech Campus at 58 Half-Way-Tree Road in Kingston.
The location is being constructed to predominantly house business processing outsourcing (BPO) companies. Associated services of the facility will include a day-care centre, ATM and financial services, health care and food service companies.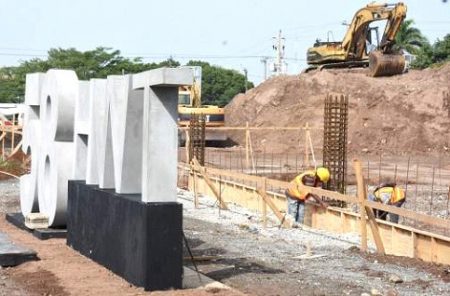 Stanley Motta, which on Thursday broke ground for the development that stretches across 236,000 square feet of land, touts the facility as the largest Tech Park in the Carib-bean. Dubbed 58HWT, the new construction adds to investment of more than US$100 million by the Musson Group over the last two years.
Stanley Motta has already signed off on a lease arrangement with BPO company Alorica, which provides global service in the communications, financial services, health care, hospitality, retail, and technology industries.
Currently Alorica employs 1,000 agents for its operation in Portmore, St Catherine. It plans to add another 5,000 employees for its new site in Kingston.
"My plan to go live is in the first or second week of December. We will start in the areas of technology, customer service and sales with about 1,500 to 2,000 agents by the end of the first quarter 2018," Jamaica Country Lead Gilberto Gianareas told the Jamaica Observer.
He added that the company is already in dialogue with the HEART Trust/ NTA to host 20 graduates from its call centre training course at the Portmore location.
Alorica — which currently operates centres in Mexico, Guatemala, Hon-duras, Dominican Repub-lic, Antigua, Panama, Brazil, and Uraguay — hopes to make Jamaica its flagship site for the region. Gianareas also reckons that Jamaica has the potential to generate big business from email and chat support services.
"I don't think it's seen that way yet, but this will be a world-class facility for the BPO industry," he told the Caribbean Business Report.
"I think after we grow and we see the business and the industry mature a little, then we can start bringing other kinds of business here. One of the things that I want to grow here is email and chat. By having English-speaking agents we can definitely grow a lot more in the email and chat business, which is becoming a big thing in the BPO industry," Gianareas continued.
Speaking at the event, Prime Minister Andrew Holness noted that in February 2016, 8,000 square feet of space existed within the BPO sector with 44 companies employing approximately 18,500 workers. By March 2017, that number moved to 1,300,000 square feet led by expansion and the addition of six new BPO players.
"We added just under 5,000 jobs to average about 22,000 jobs in the sector — that is the pace of growth that has happened within a year," Holness said. "Being the minister responsible for the Port Authority of Jamaica and the Factories Corporation of Jamaica, I know of plans for 250,000 new square feet of space, and we will be retrofitting 50,000 additional square feet."
He added that from the public sector side, Jamaica is looking at an average of 300,000 square feet new space, while the private sector also has plans for 800,000 new spaces and another 250,000 square feet.
Factories Corporation of Jamaica will be embarking on four main projects at Naggo Head and Caymanas in St Catherine, Garmex Free Zone in Kingston, and the Old Goodyear complex in St Thomas which is to be transformed into the new town centre. West Indies Home Contractors (WIHCON) is to oversee 37,000 square feet of construction to house a BPO centre in Portmore on behalf of Canadian firm Advantage Communications Inc.
"By the time I go to Standing Parliament to deliver my budget presentation in 2018, we should have additional space of 1,350,000 square feet adding another 25,000 new jobs conservatively estimated. So I want you to appreciate that there is momentum in the industry. This is not the limit of our potential," the Prime Minister said.
"This year we created almost 35,500 new jobs, the highest new job creation in the history of Jamaica. Much of that came from the services sector — BPO, tourism — and the return of bauxite. Jamaica has all the resources right here to grow and sometimes we are our biggest obstacle, but if we can get consensus we can remove one of the obstacles, which is divisive and petty politics," Holness continued.
Around the Web