(Trinidad Guardian) Prime Minister Dr Keith Rowley has admitted the Office of Disaster Preparedness and Management (ODPM) and other State agencies must improve their disaster relief response times.
His comment came in response to questions about complaints over the Office of Disaster Preparedness and Management failure to spring into any real action until yesterday and the poor response of the emergency agencies to calls for help during the flooding which had devastated parts of Trinidad over the past few days.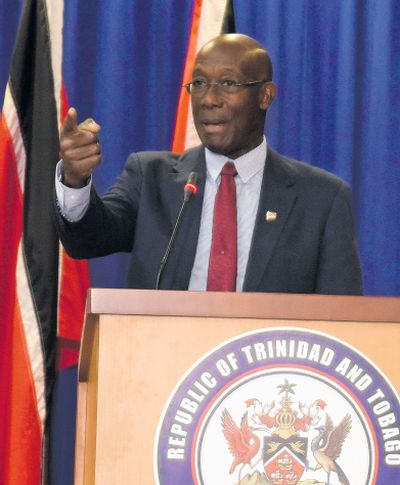 "There is work to be done in terms of improving the rapidity with which the ODPM and civil agencies tend to respond when something happens. We are not entirely happy that we have this down in a smooth way," Rowley said at his St Clair office.
"There are 14 local government bodies in T&T and all of them may at the same time be making a demand, or lines of communication may be blurred or ineffective. That is an area we need to improve on."
Saying the flooding was concentrated in areas that were also affected by Tropical Storm Bret in July, Rowley said the ODPM and regional corporations needed to learn from previous mistakes.
"Every time we go through this exercise we ought to have lessons learned and try and improve so that the next time we are in a position to respond better. I am afraid that we have not seen that just yet, but that is something we have to review and strengthen our ability to respond," Rowley said.
He also confessed that he understood why some citizens questioned the country's ability to respond to major disasters like hurricanes and earthquakes based on previous experiences with less severe natural disasters.
"That is a question we have to ask ourselves and the Government needs to ask that question and go through some table top exercises to ensure we identify where there are weakness in organisations, personnel and resources, so that in the event that something worse happens we don't find ourselves completely at sea," Rowley said.
He noted that regional corporations had already assessed damage within their regions and that the Defence Force was deployed to the worst affected communities yesterday afternoon to assist those who were marooned by the floods.
Asked what long term engineering measures Government was considering for flooding, Rowley said it was almost inevitable during periods of unusually high rainfall such as over the past three days.
"Even as we do these engineering works, whether it is clearing, which we do; building up levees, which we may have to do more of; once you have a situation where you are in valley or catchment area and you have a downpour that provides more water than the channel can carry, the water must go somewhere, especially when you have tide problems which may prevent the river from draining quickly," he said.
Asked about his failure to visit affected communities, Rowley said he had Budget commitments but noted Government was well represented in the field by the Ministers of Local Government, Works and Transport and National Security, who are all responsible for aspects disaster relief.
"I am glad they would like to see me, but we all have different responsibilities. There is a Government structure, parliament is in session for the National Budget… If it was feasible for me to go I would have, but it was not," he said.
Around the Web