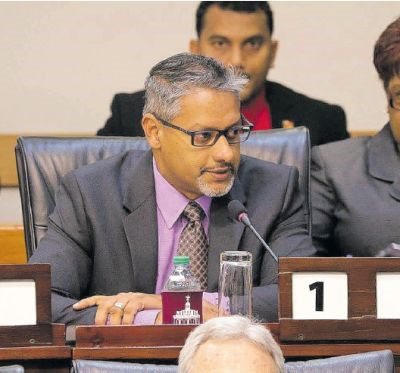 (Trinidad Guardian) Trinidad and Tobago country imported $32.7 billion in food—mainly fruits and vegetables, cereals, dairy and meat—between 2011 and 2016.
The high food import bill, which has been identified as a problem by successive governments, crossed $5 billion in 2012 and has stayed at around $5.6 billion in the past two years, despite economic challenges and complaints about access to foreign exchange.
While on multiple occasions Government has blamed citizens' taste for foreign things for the high figure, citizens have expressed feelings that range from confusion over differentiating between local and foreign food products, and a complete apathy toward locally produced food because of what some described as "poor quality".
At the same time, farmers said that over the past four years there has not been any clear direction on a policy by the Government to increase public consumption of local goods within the agriculture sector.
Agriculture Minister Clarence Rambharat, in his few direct comments about the high import bill, noted that $669 million of the 2016 food import bill was from the importation of alcohol. However, while Rambharat stated the 2016 figure was $669 million, the Central Statistical Office (CSO) website lists the figure as $351 million.
The figure for 2015 was listed as $390 million and $369 million for 2014.
During the Senate debate of the fiscal 2018 Budget, Rambharat distanced himself from the high figure, stating that while media and citizens continued to raise questions about the food import bill, he was not the one bringing alcohol into the country.
Data compiled by the CSO showed that in 2016, vegetables and fruits accounted for approximately $1 billion of the food import bill. Cereal and cereal preparations also accounted for approximately $900 million during that same period.
For several years, governments have pushed a number of "buy local" campaigns, with the latest being the farm-to-table approach encouraged by the Ministry of Agriculture and facilitated through farmer's markets set up around the country.
Even though citizens are actively encouraged to purchase local food items, the food import bill rose from $4.7 billion in 2011 to $5.6 billion in 2015.
Rambharat did not answer emailed questions regarding the food import bill and did not acknowledge or respond to multiple text messages. On October 10, this reporter emailed questions to Rambharat at his request, and sent several follow-up reminders of the email via text message on October 12 and October 31, and several phone calls between those dates.
President of the Agricultural Society of T&T Dhano Sookoo said if there was a plan for the agriculture sector in this country, it has not been clearly communicated with farmers.
Sookoo, in an interview with the Guardian, said the Ministry of Agriculture had made no attempt in the past four years to either create or implement a policy that looked at import substitution.
Comments

LIMA,  (Reuters) – Pope Francis celebrated an open air Mass for more than 1 million people yesterday, ending a trip to Chile and Peru marked by tough talk on political corruption but a backlash over what many see as his insufficient resolve to tackle sexual abuse in the Church.
GUATEMALA CITY,  (Reuters) – Former Guatemalan presidential candidate Manuel Baldizon, who is wanted on graft charges, has sought asylum in the United States after he was arrested while trying to enter the country, authorities from both nations said.
MEXICO CITY,  (Reuters) – There were more than 25,000 murders across drug-ravaged Mexico in 2017, the highest annual tally since modern records began, government data showed.
LONDON,  (Thomson Reuters Foundation) – Four out of every five dollars of wealth generated in 2017 ended up in the pockets of the richest one percent, while the poorest half of humanity got nothing, a report published by Oxfam found yesterday.

(Trinidad Express) It is official! Retired judge Paula-Mae Weekes is now the President-elect of Trinidad and Tobago.