Stronger co-operation in disaster risk management is among the major decisions of the Sixth CARICOM-Cuba Summit, held in Antigua and Barbuda on Friday, a release from the CARICOM Secretariat said on Saturday.
Strengthening ties on this issue was underlined by the signing of an MOU between the Caribbean Disaster Emergency Management Agency (CDEMA) and the Cuban Civil Defence Agency at the Summit, the release said.
"The severe opportunity costs of natural disasters for the economies of both sides was also discussed. It was however pointed out that the resulting challenges spurred both sides to upgrade their disaster preparedness and risk protection policies and measures.  It was felt that Science, Technology and innovation were important contributing factors in this area", the release added.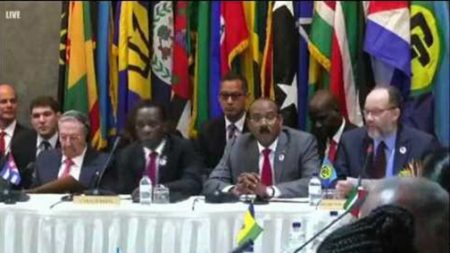 This Sixth Summit, focused on the development cooperation, trade and economic relations between the parties.
The release pointed out that currently there are 653 undergraduate and 70 post-graduate students who are recipients of scholarships granted by the Cuban Government. There are also 1,762 Cuban co-operation workers in all CARICOM countries. Of these, 1,469 work in the health sector, and the others are in the areas of education, agriculture, construction and sports.
In the area of trade and economic relations, the release said that  it was recognised by both sides that there is great potential to be exploited.
Further, the potential for complementarity in the area of tourism was recognised by the signing at the Summit of an MOU on multi-destination tourism between CARICOM countries and Cuba. In this regard, the Summit identified  air and sea transportation as an area requiring priority attention.
The Summit agreed to signal to the World Trade Organisation (WTO), whose trade ministers meet in Argentina in the coming days, the need for WTO flexibility for small states during the phase of reconstruction after the devastation of Hurricanes Irma and Maria. It was agreed that WTO rules should not be obstacles to the reconstruction of small states and small vulnerable economies.
Around the Web