Prime Minister of Dominica Roosevelt Skerrit yesterday urged that Caricom member states vigorously pursue the issues that would advance the regional integration movement, while saying it is a necessity in an increasingly hostile international environment.
Skerrit, the outgoing Chairman of Caricom, was speaking at the opening of the 28th inter-sessional meeting of the Conference of Caricom Heads of Government at the Marriott Hotel, where he pointed out that rising nationalism across the globe, supported by populist movements,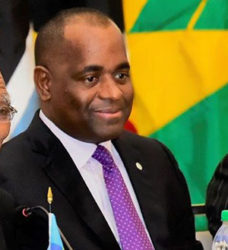 threatens the multi-lateral system as never before and does not bode well for small states.
Speaking specifically about those states within the Caribbean community, the Dominican head of state said, "Concentrated attacks on economies, whether through the withdrawal of correspondent banking services, listing our countries as non-cooperative tax jurisdictions or denigrating our citizenship-by-investment programmes, confirm that we are operating in an increasingly hostile international environment."
According to Skerrit, the effect of these attacks is compounded by the fact that most member states have been graduated out of receiving concessional development financing. Consequently, he argued, it is in each state's individual interest to act collectively and he resultantly called on the Caricom heads to work towards the speedy and effective implementation of matters long agreed upon. "Today, many of these matters are still pending, as they languish in our Ministerial Councils, Committees, Commissions and Working Groups. Whether this is due to them being inquorate or Member States asking for time to consult, or even officials not being adequately prepared, the effect is the same–a hindrance to progress," Skerrit declared.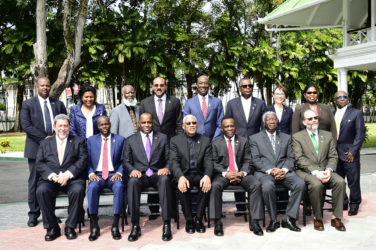 He specifically identified the inability of the Legal Affairs Committee, comprising Attorney-Generals, to come together to deal with critical agreements with respect to both the Single Market and Economy and Regional Security as well as the Council for Finance and Planning, which has not met for a considerable period of time.
The Heads of Govern-ment have committed their attention at the summit to several pieces of legislation that are expected to greatly assist in addressing crime and security in the region. These include a treaty for the establishment of a Caricom arrest warrant and a treaty to allow for the recovery of ill-gotten assets transferred to another jurisdiction.
Caricom Secretary-General Irwin LaRoque told reporters on Monday that "both of those instruments are being negotiated simultaneously and both are in an advanced stage of deliberations [but] at this point in time we are not yet in a position to say that we are going to adopt this instrument at the sitting… Our hope was to have done that but I have to admit that some of the legal instruments require very careful examination." He explain-ed that they are still to be approved by Caricom's Legal Affairs Committee, after which a recommendation will be made to the Conference of Heads of Government on adoption.
Skerrit, yesterday urged the Heads of Government to be more vigilant in ensuring their representatives act on their decisions in a timely manner. "We have a responsibility to ensure that those who have been tasked with fulfilling our mandates participate fully in the relevant discussions. We are dealing with matters that strike at the heart of both the concerns of our Community and the strengthening of our integration movement," he said
He explained that these matters are also of great significance to all countries domestically. "The completion of the regional security architecture has resonance regionally and nationally as we need these institutional arrangements to combat the scourge of crime that is afflicting us all. Cross-border crime is a serious concern within our Community. We need the legal instruments to combat it in our countries as well as regionally. This is a time for action. We cannot afford the luxury of procrastination," he stressed.
Meanwhile, in his address President David Granger, who is the new Caricom Chairman, also stressed the importance of strengthened regional security. "Regional security is an essential pillar of our Community. The Caribbean – a maritime corridor between two continents – is vulnerable to narcotics-trafficking and human-trafficking, gun-running, terrorism and penetration by international criminal cartels. Transnational criminal threats demand multinational, functional cooperation," he said, while adding that "in these uncertain times we must continuously strengthen our security architecture in order to assure citizens and investors of greater security and stability."
Granger invoked the 'Spirit of Chaguaramas,' which he said is not the ghost or 'jumbie' of a dead project but the vital breath of life that inspires intensified regional integration.
"The 'Founding Fathers' had the inspiration to see the need for integration and the motivation to establish this great movement. They have entrusted the happiness of our citizens and the prosperity of our Community to our hands. We are, today, the trustees of this legacy. We must bequeath to our progeny a more prosperous region than we inherited from our progenitors," he said.
Comments

Eleven residents of the juvenile correctional centre at Onderneeming on the Essequibo Coast were apprehended between yesterday and this morning.

With growing pressure on the government over the overcrowding of jails, MP Michael Carrington is confident that the parliamentary bill in his name to ease penalties on marijuana use will gain the support of the governing APNU+AFC benches of which he is a member.
The National Toshaos Council (NTC) is to begin its conference today and high on the agenda will likely be ongoing concerns about the lands commission of inquiry (CoI) which the government has convened.
A Trinidad-based medical products company has secured four contracts worth $135.4m. According to the Ministry of the Presidency (MotP), Cabinet at its meeting on August 15,2017 noted the award of 16 multi-million-dollar contracts.

The police on Friday evening discovered an AK-47 assault rifle and a quantity of ammunition in a haversack at Kingston, Georgetown.