A former Republic Bank clerk was yesterday charged in a city court with misappropriating $500,000 that she was supposed to transfer to another bank.
The charge against Stacey Moffatt, of 38 Shell Road, Kitty, states that in the month of July, 2015, in Georgetown, while employed as a clerk or servant at Republic Bank, she received $500,000 from Ivan Bazilio in order that she may wire transfer the funds to the University of the Southern Caribbean's Scotiabank account in Trinidad but fraudulently converted it to her own use.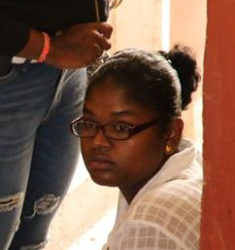 Moffat, a 28-year-old mother of one who is currently employed at Johnny Rockets, denied the charge after it was read by Magistrate Leron Daly.
After no objection to bail from Police Prosecutor Bharat Mangru, Magistrate Daly set bail at $150,000 and adjourned the case until April 28th.
Comments

Moruga/Tableland MP Dr Lovell Francis chats with two of his constituents whose yard was flooded following heavy overnight rains into yesterday.

India-born South African businessmen brothers, Atul, Rajesh and Ajay Rajesh Gupta. The Gupta family, one of South Africa's wealthiest, has been accused of wielding undue influence behind the scenes.

Although government's advisor on oil and gas, Jan Mangal, has argued that competitive bidding should be employed in the award of future oil exploration leases, Minister of Foreign Affairs Carl Greenidge says such an approach may not benefit Guyana's interests in the long term.

Police investigators will be focusing on the alleged sexual abuse of a 15-year-old boy committed by a city constabulary officer two months ago and not on the failure of the Mayor of City Council (M&CC) of Georgetown to report the case in a timely manner, 'A' Division Commander Marlon Chapman said yesterday.

A domestic brawl nearly turned deadly on Tuesday night when a man allegedly armed himself with a bottle of gasoline and attempted to set his wife on fire at Newtown, Kitty.