A former Republic Bank clerk was yesterday charged in a city court with misappropriating $500,000 that she was supposed to transfer to another bank.
The charge against Stacey Moffatt, of 38 Shell Road, Kitty, states that in the month of July, 2015, in Georgetown, while employed as a clerk or servant at Republic Bank, she received $500,000 from Ivan Bazilio in order that she may wire transfer the funds to the University of the Southern Caribbean's Scotiabank account in Trinidad but fraudulently converted it to her own use.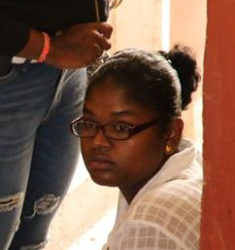 Moffat, a 28-year-old mother of one who is currently employed at Johnny Rockets, denied the charge after it was read by Magistrate Leron Daly.
After no objection to bail from Police Prosecutor Bharat Mangru, Magistrate Daly set bail at $150,000 and adjourned the case until April 28th.
Comments

(BBC) Bollywood superstar Sridevi has died after a cardiac arrest, her family says.
President David Granger will not be attending the Twenty-Ninth Inter-sessional Meeting of The Conference of Heads of Government of the Caribbean Community (CARICOM) in Haiti beginning on Monday.

Mashramani celebrations ground to halt for several families yesterday afternoon, when approximately 30 persons lost their homes after a fire of unknown origin ripped through three Victoria Road, Plaisance properties, including an apartment building.

Minister of State Joseph Harmon says that the US$3 million settlement offer made by Hong Kong Golden Telecom Limited (HKGT) on the outstanding balance for its purchase of government shares in the Guyana Telephone and Telegraph Company (GTT) is being actively considered, but the government's goal is to recover the entire US$5 million that is owed.

Opposition Leader Bharrat Jagdeo on Thursday criticised government and Minister of Finance Winston Jordan on the heels of the announced plan to borrow cash from local banks to reopen two sugar estates and to fund critical current and capital Guyana Sugar Corporation (GuySuCo) programmes.