A 16-year-old farmer of Bath Settlement, West Coast Berbice, succumbed to the injuries he sustained, after the motorcycle on which he was the pillion rider collided with a utility pole in D' Edward Village, West Coast Berbice on Monday night.
Dave Kumar Williams, also known as 'Boy', 16, of Lot 536 Block B Bath Settlement, West Coast Berbice is said to have succumbed around 5:30 am yesterday whilst receiving treatment at the New Amsterdam Public Hospital.
According to information gathered, Williams was the passenger on motorcycle CF 9832, which was allegedly being ridden at a fast rate by his 21-year-old friend, Leon Norton, also of Bath Settlement. The friend reportedly lost control of the motorcycle on a turn and slammed into a utility pole situated on the western side of the road.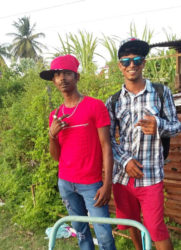 According to Williams' cousin, Nateram Sahadeo, Williams, who had resided with him since he was three years old, left home to go hang out with his friend on Easter Monday.  Sahadeo said after the duo had had a few beers, they returned home around 5:30 pm on Monday.
Sahadeo told Stabroek News, that Williams had requested some money and told him of his plans to go out again. He stated that after he gave Williams the money he instructed them to leave the motorcycle at home and take public transportation, since he figured they would have consumed more beers because it was a holiday.
Sahadeo noted that the boys promised to leave the motorcycle, which belongs to the 21 year old. "Around 10 [pm] he call and say he deh right at the next village [Waterloo, Bath) where me sister ah live, so me know them ah drink, me tell am carry the motorcycle and leave it by me sister and let them catch something and come home", Sahadeo said. He explained that the lad agreed to leave the motorcycle at his sister. "Me call me sister and tell she them ah come, let she take away the motorcycle. When them go, she said Boy [Williams] friend say ah he motorcycle and he okay to ride it home." Sahadeo pointed out that his sister lives approximately three minutes away from him. According to the farmer, his sister related that Williams and his friend hopped on the motorcycle and left to return home.
Sahadeo said it was to his disbelief that he received a message that the duo was involved in an accident at D 'Edward Village. He stated that he was told that the boys after leaving his sister's home, proceeded to Rosignol, where they imbibed further, and that they collided with a utility pole when they were on their way home.
"One man wah ah live next to the accident tell me, all he hear is blam, and when he look out he see is an accident, and then he look he clock and see is 12."
According to the said eyewitness, a police vehicle was patrolling on the road at the same time, and immediately rushed to the scene after he called out to them. He noted that an ambulance was also passing at the said time and picked up the duo and took them to the New Amsterdam Public Hospital. The man said that Williams was bleeding from his nose and mouth.
The duo were receiving medical attention at the New Amsterdam Public Hospital and were about to be transferred to the Georgetown Public Hospital (GPH), when Williams passed away. His 21 year old friend has since been transferred to the GPH, where he is said to be in critical condition.
Williams had left the Fort Wellington Secondary School in second form and joined his cousin in "planting garden." According to Sahadeo, Williams had his own garden where he planted shallots and celery.
He leaves three sisters and one brother to mourn.
Comments

(ICC) Antigua and Barbuda, Guyana and St Lucia were today announced by the International Cricket Council (ICC) as the venues for the ICC Women's World Twenty20 2018, which will be staged from 9-24 November.

The sugar union, GAWU today said that more sugar workers are to be made redundant.

(Trinidad Guardian) Education Minister Anthony Garcia says the University of Trinidad and Tobago (UTT) is of the view that the organisation is "overstaffed and to run the university efficiently it will mean they have to trim fat." But former Tertiary Education Minister Fazal Karim is warning that the decision to retrench 287 staff members, will "compromise the quality of teaching and learning and administration at the university," and may impact its accreditation with the Accreditation Council of Trinidad and Tobago (ACTT).

In preparation for Guyana's emerging oil and gas sector and the bustling business usually synonymous with the industry, the Pegasus Hotel is expected to undergo a huge expansion which includes office and residential rental spaces.

Police Commissioner Seelall Persaud is to resume his duties today after spending approximately six months on leave, Public Security Minister Khemraj Ramjattan yesterday confirmed to Stabroek News.