Sentencing in New York of former Guyana Health Minister Dr Noel Blackman for conspiracy to distribute oxycodone has been deferred to  May 12th.
Judge Johanna Seybert yesterday agreed to the deferral following an application by counsel for Blackman.
Wascar Castillo who was jointly charged in New York with Blackman for conspiracy to distribute oxycodone has been jailed for 36 months. His sentence was handed down on March 31, 2017.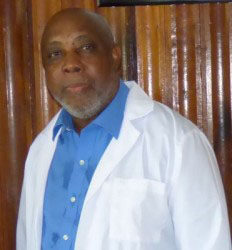 Blackman who entered a plea deal with the US was taken off of a plane on February 7th 2016 which was preparing to leave for Guyana from JFK Airport.
On February 25th, 2016 a US grand jury indicted Blackman and  Castillo, the former office manager of a Queens pain management office where Blackman previously worked for conspiracy to distribute and distribution of oxycodone.
Comments

President David Granger, earlier today, attended the wedding reception of Minister within the Ministry of Communities with responsibility for Housing, Valerie Patterson- Yearwood and .

Grace Mugabe   JOHANNESBURG,  (Reuters) – South African police confirmed on Wednesday that Zimbabwean first lady Grace Mugabe remained in the country and had applied for diplomatic immunity after being accused of assaulting a 20-year-old model in an upmarket Johannesburg hotel.

Daniel Craig   LONDON, (Reuters) – British actor Daniel Craig has confirmed he will reprise the role of James Bond one last time, ending months of speculation.

UN experts condemn racist violence in U.S., urge investigations GENEVA, (Reuters) – United Nations human rights experts called on the United States today to combat rising racist violence and xenophobia and to prosecute perpetrators of hate crimes.

The twin-engine Beechcraft seized by authorities on an improvised airstrip on Sunday in the North Rupununi, Region Nine area, was yesterday confirmed as bearing a registration number belonging to an investment company in Brazil.