A Memorandum of Understanding (MoU) was signed yesterday between University of Guyana (UG) Vice Chancellor, Pro-fessor Ivelaw Griffith and Director of MovieTowne Derek Chin for the construction of a solar farm on the Turkeyen Campus.
Griffith and Chin, in his capacity as head of the Trinidad-based Dachin Group of Companies, also signed a MoU for the construction of a 150-room student housing complex at the Turkeyen Campus, with a similar facility also to be explored for the Tain Campus.
The cost and the location of the solar farm have not been determined yet, but according to MovieTowne Director Hadyn Gadsby, they hope to commence work by December. He added that the housing complex is also set to be constructed for the first quarter in 2018 but it is still in its planning phase.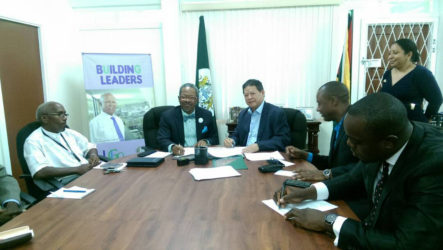 At the signing, which was held in the Vice Chancellery Building at the Turkeyen Campus, Chin said that the thought of implementing a solar farm came to mind when the developers of the MovieTowne complex at Turkeyen realised that they needed a way to lower the energy cost that they will incur when their services become operational. He said for years they had thought about it and had explored many alternative energy options but none had proven more reliable that solar energy. "Solar energy has proven to be an alternative source of energy and it fell right in line with the philosophy of the Guyana Government to go green," he said.
Chin, a Guyanese, said that MovieTowne was directed to the university and figured that it would be good to set up a partnership which would be a "win-win" for everybody. He also noted that the implementation of a solar farm could be a great opportunity which they can pioneer. Chin said that during talks with the university, the idea of selling some of the generated energy to recover some of their investments as well as developing student housing were also broached. He emphasised that the company's goal was not just about building a facility but improving the whole area.
Gadsby informed those present at the signing that MovieTowne has a lot of love for Guyana and did not want to stop at just offering entertainment. He said when they decided on pursuing solar energy, it was after the original designs were already made for the MovieTowne facility and it was difficult for them to try and retrofit the building to be able to get enough square footage for a generation facility. "So the discussion moved to an offsite location where we would be able to generate some of the energy and the suggestion was made to come and speak to the university," he explained.
Gadsby noted that in addition to providing both students and faculty staff relief from power outages at crucial times, the solar farm initiative would also offer practical exposure to how solar energy is managed and operated.
Gadsby described the venture as having economic, scholastic and social benefit for all.
Meanwhile, Professor Griffith said that the partnership has opened many doors for UG.
The MoUs were spearheaded by Professor Paloma Mohamed, Deputy Vice Chancellor, Philan-thropy Alumni and Civil Engagement, and Registrar Dr Nigel Gravesande, while the MovieTowne technical team was led by Chin, Gadsby and Eusi Anderson.
Comments

Three employees of the New Building Society were today released on self-bail after being arraigned before a Georgetown court on eight counts of unlawful confinement alleged to have occurred at its main branch.

HARARE, Zimbabwe, CMC – West Indies sneaked into next year's World Cup in England but barely, after needing the fortune of Duckworth-Lewis to beat Scotland by five runs in their final Super Six match of the ICC World Cup qualifiers here today.

GENEVA,  (Reuters) – Armed groups execute and torture civilians in Libya in almost complete impunity seven years after the revolution that toppled Muammar Gaddafi, the United Nations human rights office said on Wednesday.

A group of international researchers and petroleum policy advisors will today meet Cabinet ministers to discuss the emerging oil and gas sector and give insight into prudent preparations for the revenues that will be generated from the industry.

A 41-year old mother from Central Amelia's Ward, Linden, died on Monday evening, having reportedly suffered severe haemorrhaging after delivering a 10-pound baby at the Linden Hospital Complex.