The Sheet Anchor man who was accused of beating and killing his wife in June was yesterday found hanging from a tree along the Berbice River.
Mintie Karamchand, 40, of Lot 19 Sheet Anchor Village, East Canje, was badly beaten and chopped on June 21 by her husband,  Goldburn December, also known as "Goldie", 47, of said address. The man after committing the act had fled the scene while informing residents that he would kill himself.
Police had launched a hunt for December, however they were unsuccessful in finding him.
His son, Chris Joshua December, 19, who identified the body to be that of his father told Stabroek News that yesterday morning around 9 he heard that a "crab man" in the village had spotted his father hanging from a tree "inside the bush at Berbice River". I borrow an engine and boat and me and couple a me friends go, we circle the bush and search but na find him, when we did coming out, we see he hang up", the teen said.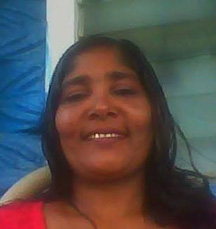 According to young December, the man's body was badly decomposed, however, he could confirm that it was indeed his father due to a scar on one of his feet. The lad then came out from the area and alerted the police who then ventured to the area and retrieved the body. The body was brought from the area at around 1 yesterday afternoon.
It is currently at the New Amsterdam Hospital awaiting a post-mortem examination.
The teenager remembered his father as a "hardworking man". He said that it was a sad situation. The lad said that despite the crime his father committed, "He na deserve to dead like that. I did love my mother and my father".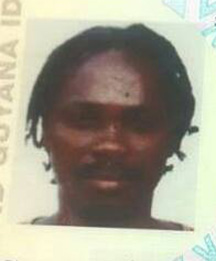 After the incident, the couple's eldest daughter, Drucilla December had explained to Stabroek News that the couple had been together for some twenty-four years, and had five children. However, about eight years ago, her father left the family and went to live in Suriname. However, he was deported from Suriname sometime in May, and had moved back into the house at Lot 19, Sheet Anchor Village.
Drucilla confirmed that during the eight years her mother had moved on with someone else and this had annoyed her father.
"He did try touching her and she did tell him that she don't like it, and I told him don't touch her and he stopped," the daughter said.
The daughter stressed that although the duo lived in the same house since her father's return from Suriname, "they were not back together". She added that since returning, her father would imbibe regularly.
On the day of the incident Karamchand had informed December that she was leaving the home, after which he reportedly used a "chopper" to slash her wrists and ankles and a bench to hit her multiple times in her head.
An autopsy had revealed that Karamchand died as a result of multiple injuries with both blunt and sharp tools.
Comments

TAROUBA, Trinidad,  CMC – Left-arm spinner Veerasammy Permaul snatched three of the four remaining wickets to end with five in the innings and nine in the match, as Guyana Jaguars routed Trinidad and Tobago Red Force by an innings and 217 runs in their fourth round match here today.

Since producing its first gold bar in August 2015, Canadian miner, Guyana Goldfields Inc (GGI) says it has paid US$26.5m in royalties to the state and purchased US$84.1m in goods and services from local businesses.

(Trinidad Guardian) When everyone felt that the case was closed on the kidnap and murder of United States citizen Balram "Balo" Maharaj, comes news that new motions have been filed in the Federal Court in Washington DC, which could see a new trial for the seven convicted Trinidadians.

HARARE,  (Reuters) – President Robert Mugabe was dismissed as leader of Zimbabwe's ruling ZANU-PF party today in a move to force a peaceful end to his 37 years in power following a de facto military coup.

Former Attorney General Anil Nandlall says that the Attorney General's Chambers' retention of six attorneys to prosecute a number of high profile cases is unconstitutional and he is warning that the right to a fair trial will be compromised by a politically-tainted process.